From GMM
Daniel Ricciardo insists he does not feel the famous lure of Maranello.
Although born and raised in Australia, the impressive 25-year-old's father is from Sicily.
But when asked by the Italian sports daily La Gazzetta dello Sport if driving for Ferrari is the ultimate 'dream', Ricciardo – who rose through the ranks of the energy drink Red Bull's junior programme – gave a surprising answer.
"To be honest I think this is just a cliche," said Ricciardo, whose family has always pronounced its Italian-sounding surname as 'Ric-ardo'.
"For sure some drivers have this dream," he admitted, "but I think it's related to the fact that their parents loved Ferrari for its great history and cultural heritage.
"My Italian DNA definitely comes out in my eating. I love Italian food, especially when I am training hard and can eat properly," Ricciardo grinned his customary grin.
Stand Ferrari. (Photo: WRi2)
So rather than dreaming of Ferrari, Ricciardo told the Italian news agency Adnkronos that he is more than enjoying his first year with Red Bull's premier team.
"I was hoping for a year like this," he said. "I knew that if I did everything right, it was possible to fight on equal terms with Sebastian (Vettel). I think I've started the year very well, so the goal is just to keep doing what I'm doing."
As for the ever-controversial format of today's formula one, Ricciardo said that while some have been highly critical, he is enjoying 2014.
"You can't please everyone. If someone thinks it's boring you have to understand that. But I think it's a sport and really nice and exciting and I love to see the enthusiasm of the fans at the grands prix," Daniel Ricciardo insisted.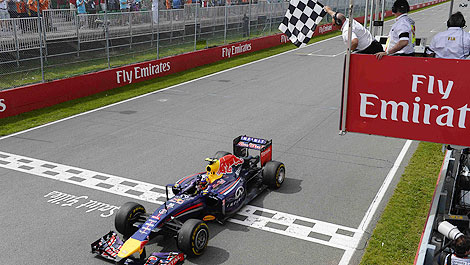 Daniel Ricciardo, Red Bull Racing, winner in Canada. (Photo: WRi2)