Despite the fact that passing is quite difficult to accomplish on the Hungaroring, the Grand Prix of Hungary has featured some pretty exciting races since his debut in 1986.
1
Michael Schumacher is the most successful driver at the Hungaroring, with a total of four wins (1994, 1998, 2001, 2004) and seven pole positions. Ayrton Senna is a close second, with three victories (1988, 1991, 1992) and three poles.
2
The inaugural Grand Prix of Hungary was held August 10 1986.
Nelson Piquet (Williams-Honda turbo) won the race from Ayrton Senna (Lotus-Renault turbo). Piquet passed Senna in corner 1 with a spectacular move.
3
In 2009, Ferrari driver Felipe Massa was badly injured when a spring came off Rubens Barrichello's Brawn and hit his helmet. Massa suffered from a concussion and was forced to miss the rest of the season.
4
The inaugural Hungarian Grand Prix in 1986 marked the world championship's first visit behind the 'Iron Curtain'. Original plans for a Budapest street circuit were abandoned in favour of a purpose-built track, 19 km outside the city.
5
Both Damon Hill (1993) and Fernando Alonso (2003) scored their first Grand Prix wins at the Hungaroring. Alonso became the youngest driver to win a F1 race (at the time) and his victory was also the first by a Spaniard.
Fernando Alonso, Benetton, 2003. (Photo: WRi2)
6
McLaren is the most successful constructor in Hungary with 11 wins. Williams is second with 7 and Ferrari has 5 wins. Mercedes AMG, Honda, Benetton, Renault and Red Bull Racing have one win each.
7
Zsolt Baumgartner, the only Hungarian to compete in an F1 race, made his home debut at the Hungaroring in 2003 driving for Jordan. Unfortunately he was forced to retire on lap 34 with engine problems.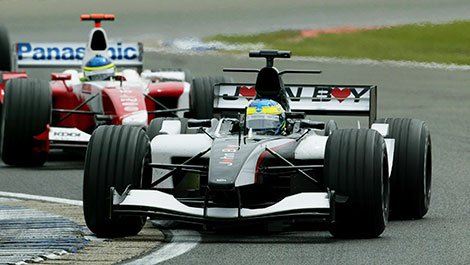 Zsolt Baumgartner, Jordan, 2003. (Photo: WRi2)