Williams F1 Team's dazzling run of form continued in Germany with Valtteri Bottas notching his third successive podium finish. Unfortunately, the race was short lived for his teammate, Felipe Massa who crashed at the first corner.
Felipe Massa, Williams, at the first corner of the German Grand Prix. (Photo: WRi2)
Deputy team principal Claire Williams told Formula1.com that her team is delighted with the performance of the Mercedes-powered car and their two drivers.
"We brought in a new group of senior engineering personal to add to the existing strength that we had, led by Pat Symonds.
Then we brought Felipe Massa in. We have a very strong driver line-up! They bring so much to the team – not just from the car development perspective but also from a motivational aspect," Claire Williams.
However, the experienced Massa failed to finish in the top 10 three times and also retired three times so far this season. Is Claire Williams happy with his overall performance?
"Felipe is delivering what we hoped that he would deliver and bring to the team: the experience that he has in F1," she replied.
"He has done a huge amount of work with the engineering department to develop the car. It is a real inspiration to everybody in the team bringing in somebody of his calibre. It was a very strong message that we wanted to deliver to the team and the world that we are very serious about our goals," she added.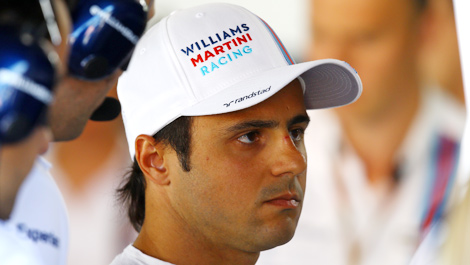 Felipe Massa, Williams Martini Racing. (Photo: WRi2)
Claire Williams explained that Massa is not frustrated to see his young teammate collecting points and finishing on the podium.
"Not at all! Felipe is doing a great job – he's just suffered from some really bad luck. He is mature enough – and has enough experience in the sport – to realise that sometimes things don't go your way. It isn't getting him down…" Williams said.