From IndyCar.com
British driver Mike Conway earned his second Verizon IndyCar Series victory of the season by holding off Tony Kanaan over a three-lap sprint to the finish in the second race of the Honda Indy Toronto doubleheader.
Conway, driving the No. 20 Fuzzy's Ultra Premium Vodka car for Ed Carpenter Racing, won by 3.5418 seconds following the lap 54 restart after a red flag with 4 minutes, 23 seconds left in the 80-minute race.
Photo: LAT for IndyCar
The race director called for the red flag to freeze the field on lap 52 after a multiple-car incident in Turn 3 the previous lap.
Will Power finished third in the No. 12 Verizon Team Penske car and Charlie Kimball advanced 14 positions relative to his starting spot in the No. 83 Levemir FlexTouch Chip Ganassi Racing car to finish fourth. Takuma Sato rebounded from 23rd place in Race 1 to finish a season-high fifth in the No. 14 ABC Supply A.J. Foyt Racing entry.
Verizon IndyCar Series championship front-runner Helio Castroneves, the pole sitter as the race lineup for the standing start was determined by entrant points, sustained wing damage on the No. 3 PPG Team Penske car on the penultimate lap and dropped to 12th place. He holds a 13-point lead over Power through 14 of the 18 races.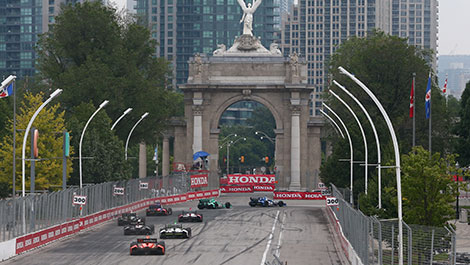 Photo: LAT for IndyCar
Conway was the second to switch from Firestone rain tires to alternate tires on lap 43 as the 1.755-mile, 11-turn street circuit was drying following a light rain that started on lap 12.
He was running third after gaining one position on a lap 49 restart and overtook Justin Wilson and Josef Newgarden – both still on rain tires – for first on lap 50.
Conway, earning his second victory of the season and the third for Ed Carpenter Racing, won the 250th race for Firestone since its return to Indy car racing in 1995.
In Race 1, Sebastien Bourdais, driving the No. 11 Hydroxycut KVSH Racing car, claimed his 32nd Indy car career win. Bourdais broke a tie with Dario Franchitti and Paul Tracy for eighth on the all-time win list.