There's a reedy snarl characteristic of most Honda engines during full-throttle, high-rpm operation. It's a noise that results from a combination of the engine's valvetrain, intake system, exhaust manifold design and other factors. You'll hear it, if you listen closely, whether you're in an Accord V6 Coupe, a Civic Si, or maybe, something like a Formula F race-car, which runs a Honda Fit engine in the back.
The same engine, to be exact, that's bolted between the front wheels of my 2008 Honda Fit. A few modifications sure, such as a special race-ready oiling system and mechanical throttle. They're needed in the lightweight, open-wheel formula car but inside, the guts of the engine are the same. Delightful thought, that the engine in my little Fit is fit for race-car duty.
A key reason why? Durability.
Photo: John Walker
Marc Sours, Chief Engineer at Honda Performance Development (HPD), comments "durability is important in a motorsports setting. It means more time between rebuilds, added confidence from the racing team, and the ability for the driver to focus more on driving".
Sours heads up a special racing technologies group within Honda that works to adapt motorsports technologies to the road, and vice versa, through innovation and real-world testing. Using a factory stock Honda Fit engine in a racing car designed for extensive use at full throttle and redline is just one example of his team's work.
He explains what racing means to Honda, and his team.
"Honda's founder built his first track before the company had ever built a four-wheeled car. Racing was seen as a way to develop the company. It's foundational to Honda. It made Honda unique'.
All of this is driven by a guiding principle formed long ago that's still alive and well today. Whether the product is a road car that'll be passed from family member to family member, or prototype racing car, it's a goal of reliable performance that guides the way. Testing engines, parts and technologies in motorsports is one way to help ensure that reliable performance.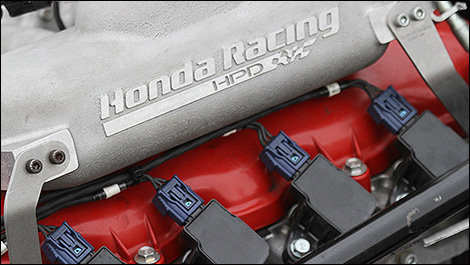 Photo: John Walker
For instance, a version of the direct injection system now found in many Honda Accord models was used in Honda's Indy Car engine in 2012. Different parts, sure, but same underlying technology.
Another example is the twin-turbo V6 prototype engine created as a collaboration between Honda and HPD.
"The rules were changed in 2010" Sours explains.
"To run LMP2 class, we needed to use a stock block—something from a car we already had on the road".
Honda's 3.5-litre V6 engine provided that block, as well as many of its internals, unchanged. Twin turbocharging was added, and the engine set off to power a series of racing cars to great success.
"We were the first manufacturer to win championships under that new stock block rule" said Sours. "We did 3,000 miles of racing. The engines lasted a long time—and that's on many stock parts. With this engine, Honda won their first races in 2011, winning all 5 ALMS LMP2 class races we participated in. And it helped keep running costs down, too".
A further testament to the durability of Honda' racing engines lies in the Indy Car series where during 5 years Honda was the sole engine supplier for the race cars. In that time, there were no engine failures.
So, much as they do on the road, Honda engines stack up as a sound business decision in racing for their low running costs and worry-free operation. That's especially important for up-and-coming racers, and track-day enthusiasts alike.
Photo: John Walker
Canadian race-car driver extraordinaire James Hinchcliffe was once an up-and-coming racer concerned with durability and operating costs. He offers some advice for the thousands of young drivers using their factory-built Hondas in motorsports in their spare time and how to maintain that durability.
"The basics are so easy" he says. "You can't hurt an engine by changing the oil too often, and it's important if you're racing. So, over-change it. Brake fluid, too. Brakes are so important—so monitor them throughout the day, in terms of pads and fluid. And use a high-quality fuel because that keeps things clean and running properly inside of the engine, which can reduce costs down the line".
Hinchcliffe also suggests keeping running costs low by avoiding un-necessary modifications.
"Forget suspension upgrades, brake upgrades or power upgrades until you can absolutely push your car to its limit on the track" he says. "Otherwise, you're just adding to a pile that you're not really on top of. An extra set of track tires is a great idea though—it's a great upgrade, plus, you don't risk driving home on tires that are worn down from the track".
"Until you have a big sponsor paying the bills, budget is important. And so is a reliable car that's easy to work on, and easy to keep on the road, or track".