Former DTM driver and current Williams' Development Driver Susie Wolff set the 15th fastest time in the first practice session of the 2014 German Grand Prix at Hockenheim.
Wolff, née Stoddart, became this morning the first female driver to take part in an official F1 Grand Prix session since Italian Givanna Amati tried to qualify her Brabham-Judd in 1992.
However, Wolff endured a few electronic woes during her outing. Her Williams FW36 suffered a software glitch early in the session, leaving the car stuck in gear and limping round the circuit.
The problem was quickly resolved and Toto Wolff's wife was able to complete 22 laps of the Hockenheimring en route to 15th place overall.
Susie Wolff, Williams Martini Racing. (Photo: WRi2)
Wolff's best time of 1m20.769 was just two tenths of a second slower than Williams' vastly experienced regular race driver Felipe Massa.
Wolff's practice programme consisted of aerodynamic and mechanical testing, along with set-up work, across several runs while she also completed some practice pit stops at the end of the session.
The 31-year-old Scot handed FW36 back to Valtteri Bottas for the remainder of the race weekend with Williams yet to confirm when she would next run in their F1 car.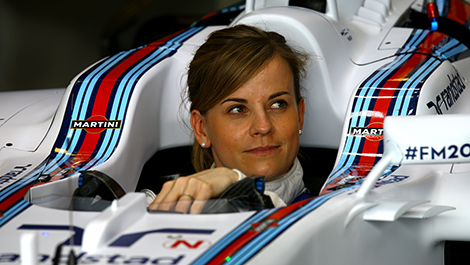 Susie Wolff, Williams Martini Racing. (Photo: WRi2)