From GMM
After over 40 staff were shown the exit this week, arguably the most nervous drivers in the Hockenheim paddock are wearing green.
Marcus Ericsson is probably safe due to his healthy sponsorship purse, but bringing much less to Caterham's table in 2014 is Japanese Kamui Kobayashi, who was signed by the now-departed Tony Fernandes mainly for his fight and experience.
"If I'm not doing a good job tomorrow, maybe I'll be fired tomorrow," he said in Germany.
The rumours at the newly-sold Caterham could be tying in with rumours at Sauber, another team struggling at the back of the grid this year.
Motorhome Sauber. (Photo: WRi2)
The Swiss team's boss Monisha Kaltenborn refused to categorically back drivers Esteban Gutierrez and Adrian Sutil as she mused Sauber's pointless year so far in Hockenheim.
"In our history, we have never been so bad," she was quoted by German reporters.
"For me, it is not acceptable. I am not satisfied with the performance of the team," Kaltenborn added, when also asked about her happiness with the drivers.
At around the same time, German Sutil's manager Manfred Zimmermann was spotted in Caterham's paddock motor home.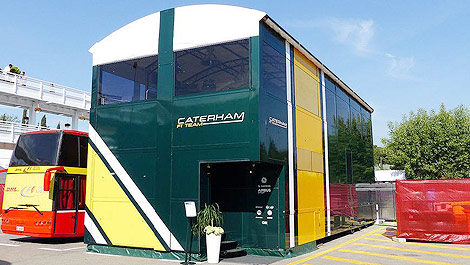 Motorhome Caterham. (Photo: WRi2)
As Sutil's future wavers, has Caterham advisor Colin Kolles spotted a potential stream of additional revenue?
"It depends what they want," said Kobayashi, continuing to speculate on his future.
"I'm more experienced than the other drivers, so I just have to focus on my job. I cannot bring anything money-wise. It's fine to lose out to a driver with money — this is formula one unfortunately."
Indeed, Caterham team boss Christijan Albers confirmed paddock suspicions that, after many members of staff were made redundant in recent days, the drivers are also not immune.
"As with any business, we are constantly evaluating all our employees, and our drivers are no different," he told F1′s official website.