From nascar.com
Former Canadian Formula Ford Champion, Louis-Philippe Dumoulin finally got the oval-track win he was looking for.
The road-course specialist from Trois-Rivieres, Quebec, came out on top in a wild green-white-checkered finish to the Velocity Prairie Thunder 250 Wednesday in NASCAR Canadian Tire Series action at Auto Clearing Motor Speedway.
Dumoulin and Joey McColm stayed out when the leaders pitted under caution inside of 10 laps to go to setup a dramatic finish on the .333-mile progressive-banked track.
Louis-Philippe Dumoulin. (Photo: Matthew Murnaghan/Gett Images for NASCAR)
On the restart, new leader McColm get loose coming to the white flag and Dumoulin powered to the front. He then held off Jason Hathaway and Scott Steckly in a race to the checkered flag.
It was the third career Canadian Tire Series victory for Dumoulin in the No. 47 WeatherTech Canada/Bellemare Dodge. His first two came on the road course at Ontario's Canadian Tire Motorsport Park in 2013. He also took over the championship points' lead by 10 over JR Fitzpatrick.
Behind Steckly, Andrew Ranger and Alex Tagliani brought home the top five. Like race winner Dumoulin, it was the best career oval finish for Tagliani.
McColm salvaged a sixth-place finish, followed by Fitzpatrick, D.J. Kennington, Noel Dowler and Eric Thiering.
It was shaping up to be a second straight victory at Auto Clearing for Steckly, who paced both practices and captured the pole earlier in the day. The defending event and series champion led the first 80 laps from the pole and a race-high 153 in total. He had a commanding lead late in the race as he led 72 laps during an extended green-flag run — putting all but five other cars down a lap — before the final caution came out.
McColm and Dumoulin had pitted much earlier in the race (Dumoulin on lap 36) for their right side tires; drivers were allowed a maximum of two tires for this event. That left them out to fend off the challenge of Steckly and Co. on fresh tires.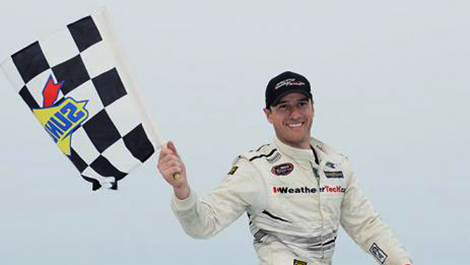 Louis-Philippe Dumoulin. (Photo: Matthew Murnaghan/Gett Images for NASCAR)
The race featured eight lead changes among five different drivers. Dumoulin's only two laps led were the last two of the event.
Point standings:
1   L.P. Dumoulin  209 points
2  J.R. Fitzpatrick  199
3  Andrew Ranger  191
4  Jason Hathaway   187
5  D.J. Kennington  183