The 2014 Grand Prix of Germany will be presented this weekend at Hockenheim. Here are 8 things to know about this Formula 1 race.
1
Built by Mercedes-Benz as a test track in the 1930s, the Hockenheimring first welcomed Formula 1 in 1970 when drivers threatened to boycott the German Grand Prix at the Nurburgring on safety grounds.
2
Austrian Jochen Rindt, driving a Lotus 72-Ford won the 1970 race in Hockenheim.
3
Two-time Formula 1 World Champion Jim Clark was killed at Hockenheim in an accident during a Formula 2 race in April 1968. Another famous F1 name, Patrick Depailler, was also killed at the circuit following a testing crash in 1980 in an Alfa Romeo.
Jim Clark and Colin Chapman, Zandvoort 1967 (Photo: WRi2)
4
Niki Lauda almost lost his life during the 1976 race at the Nurburgring. During the race, his Ferrari 312T2 suddenly swerved right into the safety barriers. The car caught fire with Lauda trapped inside. He suffered serious burns to his face, but miraculously survived.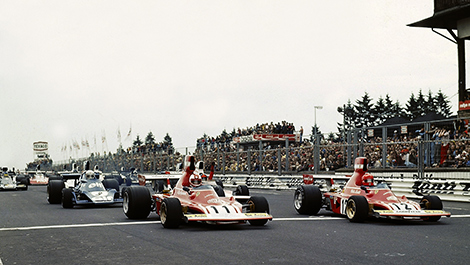 Race start, Nurburgring 1974 with Clay Regazzoni and Niki Lauda on the front row. (Photo: WRi2)
5
In 2002 the Hockenheim circuit underwent major alterations for safety reasons, with the new layout significantly reducing the speed of the circuit and increasing the spectator seating available.
6
Patrick Tambay scored his first victory at Hockenheim in 1982. It was a very emotional one as the Frenchman was driving the No. 27 Ferrari of the late Gilles Villeneuve, who had been killed in Belgium just a few months before.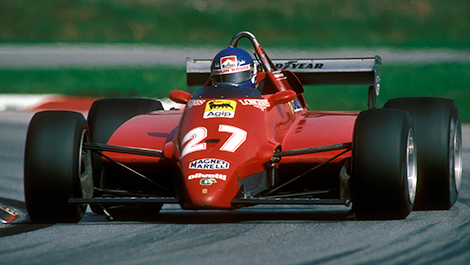 Patrick Tambay, Ferrari, 1982 (Photo: WRi2)
7
The great Michael Schumacher won his home Grand Prix four times (1995, 2002, 2004 and 2006).
8
Ferrari won the race 21 times, Williams ranks second with 9 victories.