Russian top model Inessa Tushkanova and her long-time friend and co-driver Irina Jankovskaya will contest this weekend's Rally Estonia in a Mitsubishi Evo sponsored by… Petro-Canada.
The two ladies will be contesting this round of the FIA European Rally Championship aboard a Lancer Evo IX carrying No. 61.
Inessa Tushkanova et Irina Jankovskaya (Photo: Facebook)
What's very interesting here is that the car is in part sponsored by Petro-Canada, the retail and wholesale marketing brand of Suncor Energy.
Suncor Energy does business with Gazprom, a sponsor of Tushkanova. Gazprom is the largest extractor of natural gas in the world.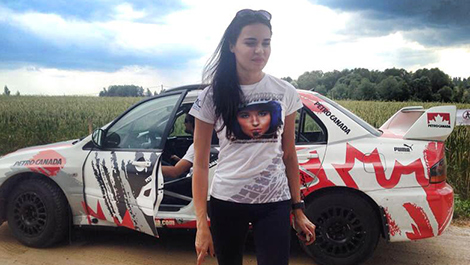 Inessa Tushkanova and her Mitsubishi Lancer. (Photo: Inessa Tushkanova Facebook)