From GMM
Boss Toto Wolff has played down a spat between Mercedes' race drivers over championship leader Nico Rosberg's nationality.
Recently at Silverstone, Briton Lewis Hamilton thrilled his fans with a popular home victory, closing the championship gap to just 4 points due to teammate Rosberg's gearbox breakdown.
Contemplating the next race at Hockenheim, Hamilton said the German grand prix is "not really his home race", as Rosberg's father is Finnish and he has spent most of his life living in Monaco.
Rosberg, who has since been posting Germany-themed photos on Twitter and Facebook to mark the world cup and will wear a special helmet this weekend, hit back that he considers himself "100 per cent German".
Nico Rosberg's helmet, special World Cup. (Photo: Nico Rosberg/Facebook)
Mercedes boss Wolff, however, said the saga triggered by Hamilton's comments has been overblown.
"It was meant as a joke," he said during an interview with the German news agency DPA.
"It (Hamilton's comments) was not reproduced in the way that he intended it. But they are fighting each other for the world championship, so there are bound to be situations that are less spectacular in reality than they are presented to the public," Toto Wolff added.
Asked if he was surprised by the reaction to Hamilton's comments, the German answered: "Formula one has an incredibly high media presence, and so if something sounds controversial then this effect is only multiplied.
"Then there can be a momentum that is impossible to stop. For us, the important that was to discuss this internally in a very timely and transparent way. In this case it was resolved quickly," said Wolff.
Until Silverstone, German Rosberg appeared to have regained the upper hand in the title scrap, apparently with a clear emotional and psychological edge over Hamilton.
But Hamilton's British grand prix win has now closed the gap to within four points.
"It's almost a fresh start heading into the second half of the season and it's going to be a really close battle between us," the British driver said on Tuesday.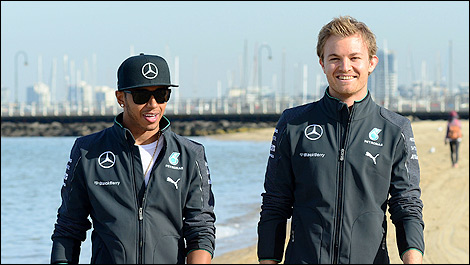 Lewis Hamilton and Nico Rosberg, Mercedes AMG. (Photo: WRi2)
Toto Wolff also denied that Nico Rosberg still has the psychological edge.
"Both of them are incredibly strong mentally," he insisted.
"Every time we talk about one of them having momentum on his side, it flips around to the other one again. So it's difficult to see any pattern," Wolff explained.