From press release
Andrew Ranger scooped up his second consecutive victory in the No. 27 Mopar Parts Dodge last Friday and if he can snag another this Wednesday night at Auto Clearing Motor Speedway in Saskatoon during round number five of the NASCAR Canadian Tire series, he'll make it a natural hat-trick with his third straight win.
The string of victories began for Ranger at Circuit ICAR in his home province of Quebec and the native of Roxton Pond has continued to ride the wave out west.
"We were struggling a bit at first in Edmonton and you have to be right on with the set up for ovals" explained the driver.
"The team made a little adjustment during the race and it made a big difference" he added.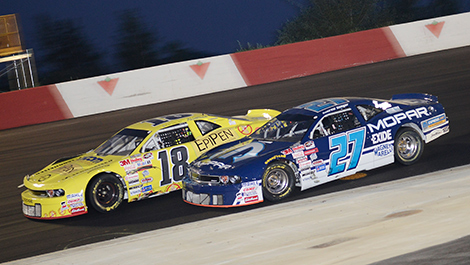 Alex Tagliani (No. 18) battling with Andrew Ranger, Edmonton 2014. (Photo: Mathew Murnaghan, Getty Images for NASCAR)
Ranger last raced at the track in 2012 scoring a top ten result. Heading back to the high banks at Auto Clearing Motor Speedway has Ranger excited for this Wednesday's event. "You can really race side by side there," said the driver. "It's a fun track to race at and I'm looking forward to getting back there".
With back to back wins in the No. 27 Mopar Parts Dodge Ranger has also climbed to third in the overall standings just a dozen points from top spot.
"The wins have been great and given us a boost, now we have to keep getting the results if we want to have a chance at that third championship" said the driver.
Action begins with practice in the afternoon and qualifying Wednesday at 5:15pm. The 250-lap race will start at 7:30pm local time.