From press release
Maxime Martin is the buoyant winner of the fifth DTM season round in Moscow. After his maiden pole position, the Belgian drove his BMW M4 DTM to his first ever victory in the most popular international touring car series.
Maxime Martin, BMW M4 DTM, crosses the finish line at the Moscow Raceway (Photo: DTM.com)
From the start of the race, the 28-year-old pulled clear from the opposition and took the chequered flag after 46 laps with a margin of 4.259 seconds from Bruno Spengler (BMW).
"A perfect day for me. After a good start, I was able to pull away continuously with the soft tyres. There were two safety car phases in the race and I was really worried that I could lose my leading position because of that. Nevertheless, I managed and I am now overjoyed. First pole, then this victory – just fantastic," the BMW driver enthused.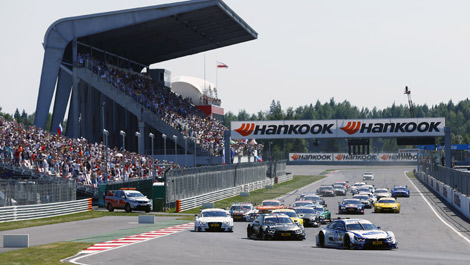 The field heads into turn 1 (Photo: DTM.com)
"I am totally happy with Maxime Martin's victory and the overall result," added Jens Marquardt, BMW Motorsport Director. "The young boy drove victory home in a very cool way. That was great. Another important factor was that Marco Wittmann achieved a decent point score."
BMW driver Marco Wittmann showed his competitive spirit and was classified fourth. With 70 points, the German is the 'half-time champion' in the DTM. His main rival in the battle for the title is Mattias Ekström, who is 20 points down.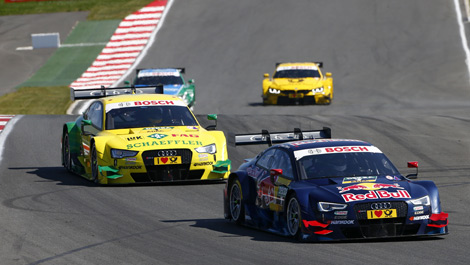 Mattias Ekström leads teammate Mike Rockenfeller (Photo: DTM.com)
Mike Rockenfeller had to accept a huge setback in the battle for the title. The Audi driver, who scored points in every round so far, now had to park his Audi RS 5 DTM following a collision.
After Moscow, the DTM is heading to Austria for its third race of the year outside of Germany. The sixth round of the season takes place at the Red Bull Ring in Spielberg, August 3.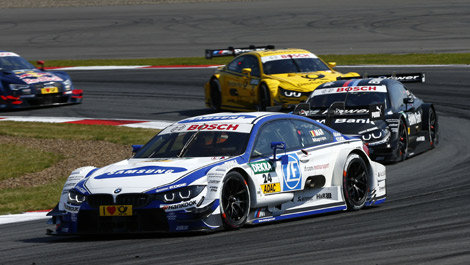 Maxime Martin leads teammate Bruno Spengler (Photo: DTM.com)
Race results - Moscow Raceway
1 – Maxime Martin (BMW M4) – RMG – 46 laps 1.15'09″422
2 – Bruno Spengler (BMW M4) – Schnitzer – 4″259
3 – Mattias Ekstrom (Audi RS5) – Abt – 9″454
4 – Marco Wittmann (BMW M4) – RMG – 9″591
5 – Nico Muller (Audi RS5) – Rosberg – 10″740
6 – Timo Glock (BMW M4) – MTEK – 15″632
7 – Christian Vietoris (Mercedes C-Coupe) – HWA – 16″553
8 – Pascal Wehrlein (Mercedes C-Coupe) – HWA – 19″300
9 – Edoardo Mortara (Audi RS5) – Abt – 20″987
10 – Augusto Farfus (BMW M4) – RBM – 21″110
11 – Antonio Felix Da Costa (BMW M4) – MTEK – 21″636
12 – Miguel Molina (Audi RS5) – Abt – 21″668
13 – Martin Tomczyk (BMW M4) – Schnitzer – 27″181
14 – Robert Wickens (Mercedes C-Coupe) – HWA – 28″109
15 – Daniel Juncadella (Mercedes C-Coupe) – HWA – 28″625
16 – Gary Paffett (Mercedes C-Coupe) – HWA – 29″039
17 – Joey Hand (BMW M4) – RBM – 29″759
18 – Vitaly Petrov (Mercedes C-Coupe) – Mucke – 39″933
Retirements
Adrien Tambay
Mike Rockenfeller
Timo Scheider
Paul di Resta
Jamie Green