From GMM
Fourteen years on, little has changed between Lewis Hamilton and Nico Rosberg, according to their former karting boss.
In 2000, the pair were teammates at mbm.com, the kart team sponsored by Mercedes-Benz and McLaren.
Nico Rosberg and Lewis Hamilton, mbm.com karting team (Photo: Sebastien Blin)
It was run by Dino Chiesa, who told Germany's Bild am Sonntag newspaper on Sunday: "On his fast lap, Lewis was always a little faster than Nico. He knew it well and he knows it today.
"But Rosberg has always worked harder. He (Rosberg) has always done the dirty work — the setup, working with the mechanics and the engineers.
"Lewis has never worked as hard as Nico behind the scenes," said Chiesa, when asked about the past in the context of the pair's massive falling-out as they battle for the world championship in 2014 as Mercedes teammates.
"One of them has the talent, the other is fast but is more of a thinker. And then Lewis cuts a piece of Nico's cake and sells it as his own."
Chiesa said Briton Hamilton and German Rosberg also got up to their 'psychological games' in karts all those years ago.
"Yes, but of course on a different scale," he revealed. "At the time I was the team manager, but I was also like a counsellor or a father.
"I remember some angry phone calls from the hotel reception. Sometimes they had destroyed the room. It started with a thrown cushion, then a blanket, then the mattress was out on the street.
"It was all fun except that I always paid the bill at the end," he laughed.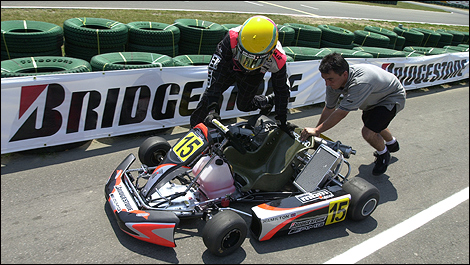 Lewis Hamilton, mbm.com karting (Photo: Sebastien Blin)
Chiesa said Monaco 2014, however, was slightly different.
"Lewis behaved a bit like a young, angry Italian," he surmised. "Nothing is ever his fault. He always thinks others are out to hurt him.
"But you have to understand this is a German team with a German driver who has been there for three years already. It feels to Lewis as if the team is a bit more friendly to Nico. It's normal."
Chiesa said he still talks regularly to Rosberg, but not to Hamilton.
"It is difficult to get to him," he said. "His management is not very helpful. It may be good for a Hollywood star, but not for a formula one driver. These people give the impression of him being a superstar.
"But a motor sport race is not a show, it's hard work. So I think it's right that Niki Lauda brought him back down to earth," said Chiesa, perhaps referring to Hamilton's smaller entourage and apparently clearer focus in 2014.
Meanwhile, former F1 driver Alex Zanardi has tipped Hamilton to beat Rosberg to the title this year.
"I only want to say one thing about their rivalry," the Italian is quoted by La Gazzetta dello Sport.
"Nico is a very strong driver, but Lewis is a champion."