From press release
Penske driver Will Power won the first of two IndyCar races, presented this weekend on the street circuit of Belle Isle, in Detroit.
The Australian beat Rahal Letterman Lanigan Racing's Graham Rahal by a whisker, after a late caution bunched the field back up for a 10-lap sprint to the checkered flag.
Will Power, Team Penske (Photo: Chris Jones)
"Just a great job by the team, putting me in a position to use our speed," said Power.
"That was hard work. It's a massive win for me, massive win for the team and especially for Roger and for Chevy. They've been trying to win here for a long  time and we finally did it with a Honda trying to charge by.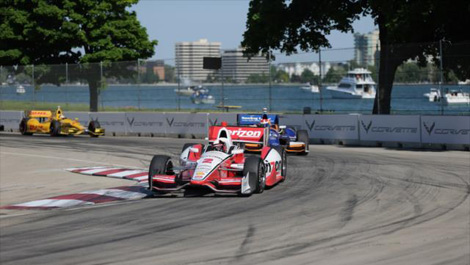 Juan Pablo Montoya, Team Penske (Photo: Joe Skibinski)
"(Rahal) was really fast. I was worried but I just kept executing good laps." 
"I was just trying to give him a run for his money," added Rahal.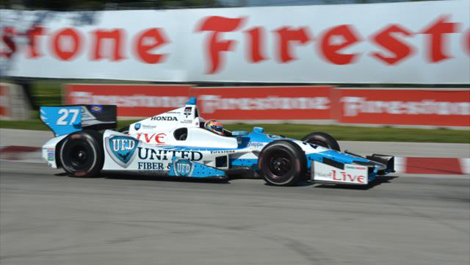 James Hinckcliffe, Andretti Autosport (Photo: Chris Owens)
"I thought if I can just force him into a little mistake, this is mine. Didn't quite get there but I'm very proud of this team."
Canadian James Hinchcliffe brought his car home in sixth, having started on the outside of row one.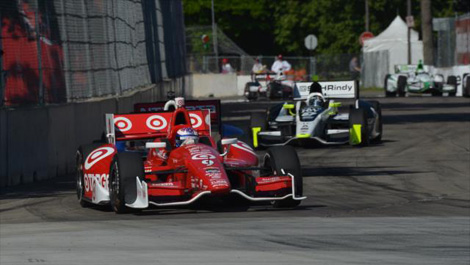 Scott Dixon, Ganassi Racing (Photo: Chris Owens)
Race results* - Race One (Belle Isle, Detroit)
1 – Will Power (Dallara DW12-Chevy) – Penske – 70 laps
2 – Graham Rahal (Dallara DW12-Honda) – Rahal – 0″3308
3 – Jack Hawksworth (Dallara DW12-Chevy) – Herta – 5″5096
4 – Justin Wilson (Dallara DW12-Honda) – Coyne – 8″5951
5 – Helio Castroneves (Dallara DW12-Chevy) – Penske – 10″7365
6 – James Hinchcliffe (Dallara DW12-Honda) – Andretti – 11″5074
7 – Carlos Munoz (Dallara DW12-Honda) – Andretti – 14″8813
8 – Carlos Huertas (Dallara DW12-Honda) – Coyne – 26″5965
9 – Charlie Kimball (Dallara DW12-Chevy) – Ganassi – 32″5852
10 – Marco Andretti (Dallara DW12-Honda) – Andretti – 33″1818
11 – Scott Dixon (Dallara DW12-Chevy) – Ganassi – 33″3522
12 – Juan Pablo Montoya (Dallara DW12-Chevy) – Penske – 34″0094
13 – Sebastien Bourdais (Dallara DW12-Chevy) – KV – 36″0240
14 – Sebastian Saavedra (Dallara DW12-Chevy) – KV – 37″0532
15 – Ryan Briscoe (Dallara DW12-Chevy) – Ganassi – 56″6632
16 – Ryan Hunter-Reay (Dallara DW12-Honda) – Andretti – 1 lap
17 – Mikhail Aleshin (Dallara DW12-Honda) – Schmidt – 2 laps
18 – Takuma Sato (Dallara DW12-Honda) – Foyt – 4 laps
19 – Jack Hawksworth (Dallara DW12-Chevy) – Herta – 5 laps
Fastest lap of the race: 1'17"6399 by Graham Rahal
Retirements
Lap 37 – Josef Newgarden
Lap 23 – Mike Conway
Lap 5 – Simon Pagenaud
*Unofficial results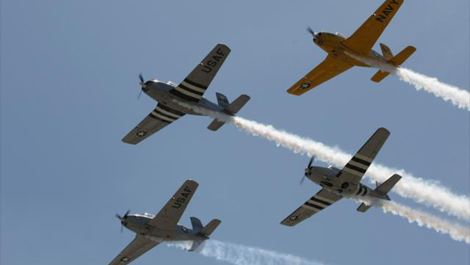 Ambiance (Photo: Joe Skibinski)