From press release
Ricky and Jordan Taylor sprinted to the Prototype (P) class and overall victory Saturday, in the Chevrolet Sports Car Classic, a result that wasn't the least bit surprising. After all, the Taylor Brothers were in a hurry.
After winning the fifth race of the United SportsCar Championship (USCC) season, the Taylor Brothers took off for the airport and a flight to Paris, to be followed by a train ride to Le Mans, France. They were expecting to arrive around noon on Sunday, to participate in the 24 Hours of Le Mans mandatory test session.
Photo: IMSA.com
Ricky Taylor brought the No. 10 Corvette DP home, only 0.207 seconds ahead of Richard Westbrook, who was in the pole-sitting No. 90 Spirit of Daytona Racing Corvette DP. Westbrook co-drove with Canadian Michael Valiante.
What was shaping up to be a routine run to the checkered flag for Ricky Taylor changed quickly in the closing minutes of the race, following a caution period to repair the tire wall in Turn 12,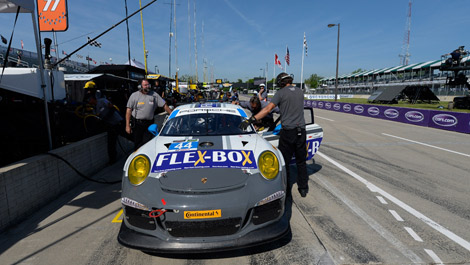 Photo: IMSA.com
Ricky Taylor was out front, with Joao Barbosa a close second. Taylor took the white flag but suddenly, Barbosa took the lead with a daring inside move into the Turn 3 right-hander, nudging Taylor into the wall. Moments later, though, the left-rear tire on Barbosa's car was shredding and then, he was spinning. Taylor sped by and won.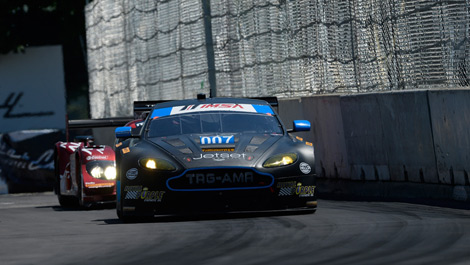 Photo: IMSA.com
"When he put us in the wall the only thing I was thinking was either he is going to have a tire go down or I was definitely going to break because it was a hard hit," Ricky Taylor said. "For those last couple laps it was really tooth and nail."
Ricky Taylor is slated to co-drive a LM P2 car at Le Mans, while Jordan Taylor and Westbrook will join the heralded Corvette Racing operation for a LM GTE Pro effort.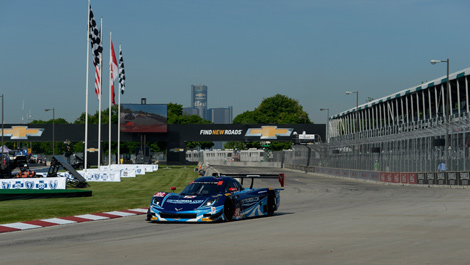 Photo: IMSA.com
"Richard and I have done this [Detroit-to-Le Mans trip] before together and it was a disaster," Jordan said.
"Hopefully this one, with a lot more planning will be a little less stress. I think we knocked off about five years of Richard's life [last time]. It's a rough travel night. We hope to get in the car [at Le Mans] for a few hours. It's a long weekend, but we're race car drivers and we love driving, so it's definitely worth it."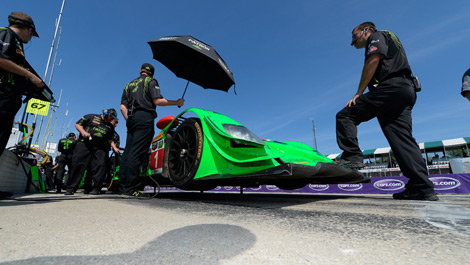 Photo: IMSA.com
Race results* - Chevrolet Sports Car Classic
1 – R.Taylor/J.Taylor (Dallara-Corvette) – Taylor – 57 laps
2 – Westbrook/Valiante (Coyote-Corvette) – Spirit of Daytona – 0"207
3 – Yacaman/Pla (Morgan-Nissan) – OAK – 8"817
4 – Pew/Negri (Riley-Ford) – Shank – 9"713
5 – Sharp/Dalziel (HPD ARX03b) – ExtremeSpeed – 17"718
6 – Barbosa/Fittipaldi (Coyote-Corvette) – ActionExp – 33"286
7 – Brown/Van Overbeek (HPD ARX03b) – ExtremeSpeed – 1 lap
8 – Balzan/Westphal (Ferrari 458) – Corsa – 1 lap
9 – James/M.Farnbacher (Porsche 991) – AlexJob – 1 lap
10 – Haase/B.Miller (Audi R8) – Miller – 1 lap
11 – Carter/Davison (Aston Martin Vantage) – TRG – 1 lap
12 – Macneil/Keen (Porsche 991) – AlexJob – 1 lap
13 – Cameron/Palttala (BMW Z4) – Turner – 1 lap
14 – Drissi/Asch (Porsche 991) – Muehlner – 1 lap
15 – Sweedler/T.Bell (Ferrari 458) – AIM – 1 lap
16 – Snow/Heylen (Porsche 991) – Snow – 2 laps
17 – Barker/Faulkner (Porsche 991) – GB – 2 laps
18 – J.Bleekemolen/Keating (SRT Viper) – Riley – 2 laps
19 – Nunez/J.Miller (Lola B12/60-Mazda) – Speedsource – 2 laps
20 – Neiman/Von Moltke (Audi R8) – Flying Lizard – 2 laps
21 – Potter/Lally (Porsche 991) – Magnus – 2 laps
22 – Tremblay/T.Long (Lola B12/60-Mazda) – Speedsource – 3 laps
23 – Canache/Pumpelly (Audi R8) – Flying Lizard – 4 laps
24 – Espenlaub/Putman (Audi R8) – Fall-Line – 4 laps
25 – Marcelli/Cumming (Ferrari 458) – Scuderia Corsa – 4 laps
26 – A.Davis/Sandberg (Porsche 991) – Stevenson – 5 laps
27 – Lindsey/Estre (Porsche 991) – ParkPlace – 31 laps
28 – Cisneros/Giermaziak (Porsche 991) – NGT – 33 laps
29 – Curran/Said (Coyote-Corvette) – Marsh – 39 laps
30 – Pruett/Rojas (Riley-Ford) – Ganassi – 45 laps
*Unofficial results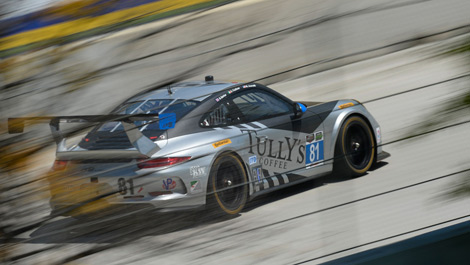 Photo: IMSA.com