From press release
Kerry Earnhardt, Kelley Earnhardt Miller and Dale Earnhardt Jr. grew up in the outdoors with a love of being outside carried from generation to generation.
"Growing up, granddad (NASCAR Sportsman Champion Ralph Earnhardt) and dad (NASCAR Hall of Famer Dale Earnhardt) handed their traditions down to us … being on the water, in the woods," former NASCAR driver Kerry Earnhardt said.
"We like to ride four-wheelers and trail-ride and do things like that as well," NASCAR Sprint Cup Series driver Dale Earnhardt Jr. said. "So there's a lot of fun to be had out in the woods and outdoors. You just kind of never forget that, those experiences as a little kid."
Dale Earnhardt Jr (Photo: Facebook)
To promote a multi-generational love of the outdoors, the three siblings have created an outdoor lifestyle brand, Earnhardt Outdoors, and partnered with Tackle Grab, an online subscription service for the recreational and sport-finishing industry.
"Sharing the outdoors with people and passing that along from generation to generation is important to us," JR Motorsports co-owner Kelley Earnhardt Miller said. "Partnering with Tackle Grab makes enjoying the outdoors just easier and simpler. They provide a very authentic product, quality product. It's innovative, and I think the same is true for the Earnhardts."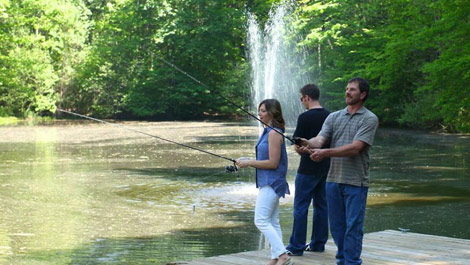 Kelley, Kerry and Dale Jr fishing (Photo: Facebook)
Tackle Grab Powered by Earnhardt Outdoors will add new brands of fishing products, providing members with the latest industry offerings to meet their fishing needs. According to Experian Consumer Research, Simmons National Consumer Survey in 2010, 25 million NASCAR fans fished over the previous 12 months. The study also indicated that those fans were twice as likely to fish as non-fans.
"Tackle Grab is thrilled to partner with the Earnhardt family and Earnhardt Outdoors," Stash Karandanis, co-founder of Tackle Grab, said. "Their family and organization represent the core values we strive for — family, love of the outdoors, and fishing. With the Earnhardt's help, we will continue to provide our members with the best access to high quality fishing equipment each month."