SAN JOSE CHIAPA, Mexico — Audi AG officials and the Governor of the state of Puebla Mexico, recently broke ground on a new "Supplier's Park" that is part of Audi's new $1.3 billion USD manufacturing site.
Just a little over a year ago, Audi began construction on their new 400-hectare plant in this small village two and a half hours south east of Mexico City. The facility will produce the Q5 crossover, but roughly only 35% of those produced are intended for our North American market. The remaining 65% — thanks to the plant's location close to the Port of Vera Cruz, and Mexico's free trade agreements with 40 other countries worldwide — will be shipped to other fast-growing global markets. This, not wage differences (although wages in Mexico are generally 20% lower than the rest of North America), was the crucial factor in Audi's decision to build in Mexico. More than two-thirds of the Q5′s components will be produced in the NAFTA region, with this expected to increase to 90% eventually.
Photo: Lesley Wimbush
Mexican-made Audis equal to those built in Germany
As of this year, there are more Audis produced outside of Germany than in. Audi will train all those suppliers who successfully win tenders to work with the Puebla site to bring them up to Audi standards, using the "Audi Production System" (APS).
Last year, Audi invited 200 suppliers to attend a workshop, seven of whom will move into the supplier's park by the end of this year, which in the first phase of development will be over 24,000 -square metres. An on-site training centre will soon begin operation to ensure that Audis produced here will have exactly the same level of quality as those built in Germany.
The plant follows Audi's "Just In Sequence" (JIS) format, and all companies in the supplier's park will be trained to those specifications. Using the exact standards learned from Audi, the supplier will build components to order, following the sequence of the production line. As a specific trim model moves down the line, a signal is sent to the supplier, who begins assembling the needed part built specifically for that vehicle. In just 144 minutes, the parts are gathered, the component is assembled, passed through quality control, and transported to the production line where it's installed on the intended vehicle. The JIS system relieves the production line of some of the burden of extra work, storage, and responsibility by having made-to-order components available on demand.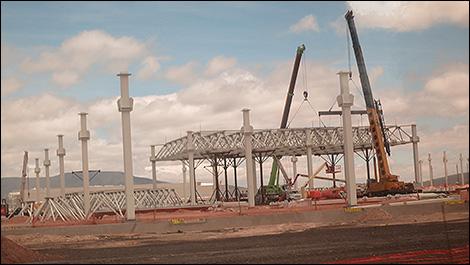 Photo: Lesley Wimbush
Audi's arrival met with enthusiasm
The spade-turning ceremony for the new park was attended by Puebla's governor, Rafael Morena Valle Rosas, who declared it the "dawn of a new industrial era for Puebla" requiring the establishment of highways, electrical and water supplies, new hospitals, and police services.
Of the $1.3 billion USD, $800 million will go into structures, $350 million to companies in Mexico, and $230 million will be invested in Puebla.
More than 1,000 jobs will be created in the supplier's park alone, with a possible 20,000 associated jobs in the area.
Fifty-six km north in Puebla, there's a plant owned by parent company Volkswagen AG, but it has the advantage of surrounding city's infrastructure.
The San Jose Chiapa plant is currently Audi's largest project, as it is a ground-up venture. The company is currently building an "Audi Highway" in and out of the facility, canals to handle water supplies, and will be planting over 5,000 trees around the site.
Although there is an existing railway line to the shipping port of Vera Cruz, Audi will build two spurs, one to bring in supplies, and another to transport finished vehicles ready for exportation.
Although the first Q5s will roll off the production line as early as mid-2015, it will be another year before the "product is considered stable enough" to begin export. Initial production will begin with one shift, with two more to be added. The plans allow for expansion and the eventual addition of other platforms.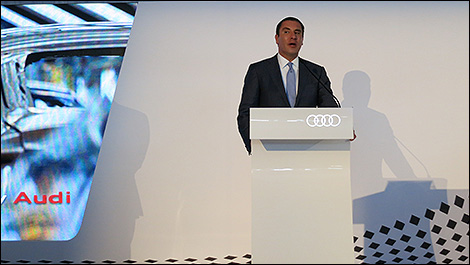 Photo: Lesley Wimbush