From GMM
Former two-time World Champion Mika Hakkinen says Lewis Hamilton's behaviour was "sub-standard" in Monaco.
Hamilton accused his Mercedes teammate of deliberately sabotaging his push for pole position, afterwards refusing to acknowledge his race win.
"I appreciate Nico's patience in this situation," double world champion Hakkinen told Finland's Ilta Sanomat newspaper, when asked about the falling out.
"I do not like the idea of what Lewis did. It was quite sub-standard behaviour," said Hakkinen.
Even now, it is believed Hamilton and Rosberg have not spoken a word since Monaco.
"They are in different places," team boss Toto Wolff is quoted by DPA news agency. "So it's not unusual."
Hamilton indicated after Monaco that he had seen evidence that convinced him that Rosberg had acted deliberately under braking for the Mirabeau corner.
That same evidence did not, however, convince the Monaco stewards, including former F1 driver Derek Warwick.
"I don't want to give him (Hamilton) advice really," Warwick told the Daily Mail. "He has won umpteen races and a world championship.
"But if I were to say anything it would be to man up and concentrate on the next race in Canada."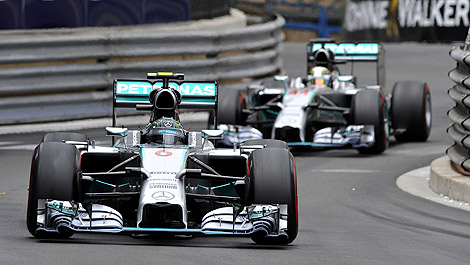 Nico Rosberg and Lewis Hamilton, Mercedes AMG, in the streets of Monaco. (Photo: WRi2)
"Rosberg is the perfect package"
Indeed, Rosberg is showing signs of wanting to move on.
"It was one of the more difficult weekends," he said on a visit to Italy where the German football team is preparing for the world cup.
"But I think after a break we will, as always, talk about it," added Rosberg.
"I make an effort for teamwork and for the atmosphere in the team."
It seems less likely that Hamilton is similarly ready to move on.
Indeed, Gerhard Berger – who hosted the Mercedes bosses and drivers for a dinner on his yacht in Monaco – thinks the duo are set for an "explosion".
"Clearly it's just starting now," he told Austrian Servus TV.
"I think Hamilton must do his homework better. He is currently the fastest man in formula one, but he still focuses too much on trivialities. Rosberg is the perfect package," added Berger.
A clear 'number 1′ and 'number 2′ situation is easier for a team to manage, but team boss Wolff said he believes one of the secrets of Mercedes' dominance this year is a pair of drivers who spur each other to great heights.
But that doesn't mean he was overjoyed in Monaco.
"I was the bad guy after qualifying," said Wolff. "I told them it is absolutely unacceptable to have to spend the afternoon with the media talking about whether one of them cheated or not. I have other things to do."
He was particularly unhappy about Hamilton's suggestion that he will deal with the situation just as Ayrton Senna did, sparking rumours of a deliberate crash.
"We had our board members in Monaco, our partners — I will not have our team and our brand made a fool of. I think they (the drivers) understood," said Wolff.
"They can have fun with their toys so long as they don't break them," the Austrian is quoted by Italy's La Gazzetta dello Sport.
"It will never come to the level of the Prost-Senna relationship," Wolff promised.
"Clearly there is no hugging, but this is a job, not a holiday. It is wonderful to have two drivers at this level."