Canadians endured a difficult day at the Indy 500 Sunday.
Front row starter James Hinchcliffe of Toronto led early, but was involved in a Turn 1 incident with pole sitter Ed Carpenter on a lap 176 restart.
James Hinchcliffe and Ed Carpenter. (Photo: IMS)
Alex Tagliani of Lachenaie, Quebec started 24th on the grid. "We had a good start, we settled in, and then all of the sudden we got loose with the car," Tagliani said. "I really didn't know if it was our tire balance or the aerodynamics, but we started with a lot of aero, and the car was a bit slow in the straightaways."
The No. 68 team hoped to pit under caution to take out wing, but the green flag flew for the first 149 laps of the 200-lap race. Tagliani led laps 171-173 during the pit stop cycle, the fourth consecutive year he has led at least one lap in the "500."
"It takes a lot of time to take wing out and we kept pitting under green," Tagliani said. "We continued to trim the car until finally the car was balanced and quick enough to follow. We made some passes on restarts and had good pit stops to make up time."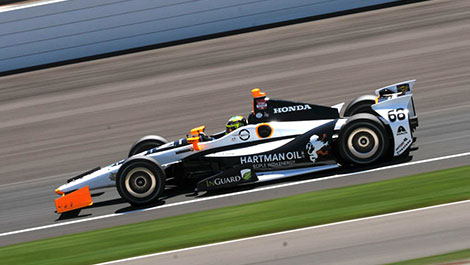 Alex Tagliani. (Photo: SFHR)
Former Formula 1 World Champion, Jacques Villeneuve gained 13 positions to finish 14th in his first appearance at "The Greatest Spectacle in Racing" since winning in 1995.
"Today went according to plan," Villeneuve said. "I started toward the back, so I took a very easy start and didn't go for broke on the first lap. Early on, I wasn't happy with the car, so I hung back and focused on not losing a lap."
Unfortunately, Villeneuve's No. 5 car lost a lap to the race leaders. But Villeneuve regained his lap thanks to the multiple caution periods in the last 125 miles of the race.
"During the pit stops, we steadily improved the car, and luckily we got our lap back," he said. "At the end of the race, I felt that my car was really starting to catch its stride, and I drove more aggressively."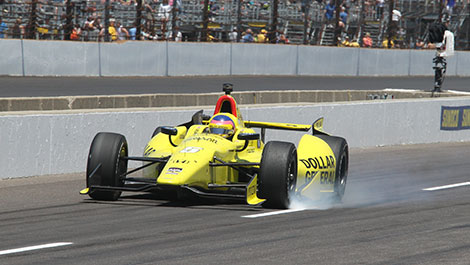 Jacques Villeneuve. (Photo: IMS)