From press release
Mahindra Racing Monday announced that India's own Karun Chandhok and Bruno Senna will be the team's drivers for the inaugural season of the FIA Formula E Championship.
The duo will represent Mahindra when they line-up on the grid at the start of the world's first ever fully electric championship in Beijing later this year.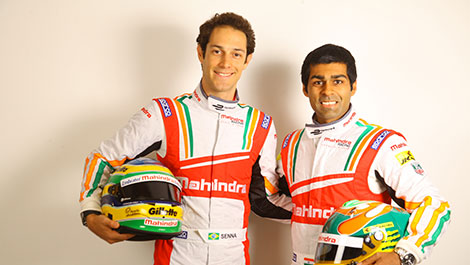 Bruno Senna and Karun Chandhok (Photo: Mahindra Racing)
Neither Chandhok nor Senna are strangers to international racing fans, both having competed at the top level of the sport in Formula 1.
Preparation for the season is already underway, with the team's first car having been delivered to Mahindra Racing recently.
This brand new Formula E car has already been painted with the team's new livery – a stunning combination of Mahindra red and the colours of the Indian flag.