From GMM
Niki Lauda has scolded Lewis Hamilton for not congratulating teammate Nico Rosberg after his second consecutive Monaco win on Sunday.
As their clash for the 2014 title exploded in dramatic style in the Principality, 2008 world champion declared his friendship with German Rosberg is over.
But it seems the breakdown is over more than just Rosberg's qualifying 'mistake' that cost Hamilton a shot at pole position on Saturday.
It emerges that Hamilton used a higher 'engine mode' – that Mercedes specifically told him not to use – en route to victory in Barcelona two weeks ago.
"We were told that we had to stay in a certain mode. Nico did it in Bahrain and I did it in Barcelona," Hamilton confirmed on Sunday.
Team chairman Niki Lauda said the matter is now closed, because Hamilton apologised after Barcelona.
"In the last couple of races we had some little fouls left and right. This is not happening ever again," said team boss Toto Wolff.
There is no doubt that Hamilton is most upset about qualifying in Monaco, even though the stewards looked at the data and did not find that Rosberg made his mistake on purpose.
"I wish you could have seen the data. I saw something late last night, and all I could do was smile," the fuming Hamilton told reporters in Monaco.
Nico Rosberg and Lewis Hamilton, Mercedes AMG, in Monaco. (Photo: WRi2)
The big risk within the Brackley camp is that the rivalry will now spiral out of control, perhaps in an explosion of carbon fibre pieces.
Niki Lauda vowed to sort it out before the next race.
"I will go there in Montreal or before, and meet them or Lewis in this case and say 'what is the problem'," the great Austrian said.
Lauda said Hamilton is clearly a "very emotional" character in general, but he said treating Rosberg disrespectfully was not appropriate on Sunday.
"That Lewis did not shake his hand is not in order," he told Germany's Sport Bild.
"He should congratulate Nico, because Nico always did it to him, even hugged him in Bahrain where they were both really fighting each other," Niki Lauda added.
At the same time, Lauda said Hamilton does not need to be a 'nice guy'.
In fact, "You have to be a bastard if you want to win in formula one, no question. Tell me one nice guy out there — do we start with Fernando Alonso?
"The tension is building up, no question, but we have to make sure that the team doesn't get out of hand. So if they don't say hello in the morning any more, it's out of hand," Lauda continued.
Without a doubt, Lewis Hamilton is no longer saying hello. But Niki Lauda thinks the Briton's mood will change soon.
"Hopefully he will make a good party with (girlfriend) Nicole, I will speak to him tomorrow and I guarantee you it will be fixed. We are going to work it out."
Almost certainly, Niki Lauda knows he is under pressure from fellow team chiefs Paddy Lowe and Toto Wolff to sort it out before a range of 'team orders' are strictly imposed in order to control the driver duo.
Toto Wolff admitted: "The moment it goes in the direction where we believe it is not in the spirit of Mercedes-Benz, we will act accordingly.
"We are racers. We want our drivers to race. But there are certain limits to which they must adhere," he told Welt am Sonntag newspaper.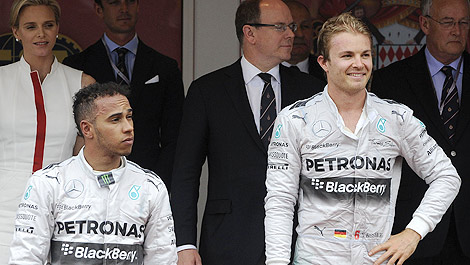 Lewis Hamilton and Nico Rosberg on the Monaco podium. (Photo: WRi2)
Lauda knows exactly what 'hating' a teammate feels like.
"I had nothing against (Alain) Prost personally — he was complicated but a nice guy. Nevertheless, I hated him and kept all the information from him. I told my engineers not to say anything to him."
Toto Wolff likened an inter-team championship battle to two men fighting over "the same woman".
"In that situation there's no friendship," he is quoted by Bild newspaper.
Dieter Zetsche, the chairman of Mercedes parent Daimler, agreed that Hamilton and Rosberg should be free to wage their battles, even though imposing 'team orders' would mean less 'grey hairs' for the management.
"This is exactly what the viewers want to see," he said. "The worst thing would be nice team orders with one behind the other.
"Ultimately, we have to be honest — the people are interested in the brands but they care more about the people. They want to see them fight each other.
"Now we have these two young men against each other in a great car, and this is the most beautiful thing that racing can provide," added Zetsche.