From GMM
Toto Wolff has admitted he is "surprised" grandee teams like McLaren and Ferrari have struggled so much in 2014.
Mercedes has utterly dominated this year's world championship so far, but after a slow start for reigning world champions Red Bull, the Renault-powered team is now closing the gap.
"When you consider where we were pre-season to where we are now, that's a pretty long way in a couple of months," said Red Bull boss Christian Horner in Monaco.
"Hopefully if we can keep it up we'll be able to challenge Mercedes before too long in the future," he added.
However, it is a markedly different story for Mercedes' other big-budget rivals.
Jenson Button, McLaren MP4-29 (Photo: WRi2)
Customer McLaren has the same basic 'power unit' as the works Mercedes team, while Ferrari has the benefit of building its chassis and engine under the same Maranello roof.
Wolff admits he has been surprised in 2014.
"I'm surprised that McLaren have not pushed us more because they have the same power unit," he is quoted by the Guardian.
"They looked very strong in the first test in Jerez, but they haven't been able to deliver on track. Looking from where we are it looks as if they have gone backwards," said Wolff.
As for Ferrari, Wolff admitted he is even more surprised by the fabled Italian team's struggles.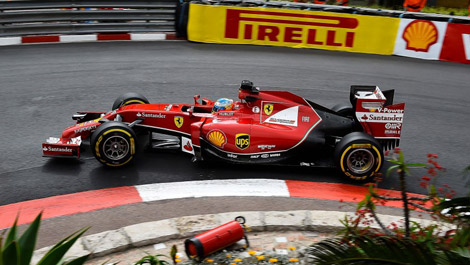 Fernando Alonso, Ferrari F14 T (Photo: Ferrari)
"It is bizarre their engine didn't perform in the way ours did," he said. "And they haven't been able to integrate the different parts of the car in the way that we did."
In truth, however, the struggles of McLaren and Ferrari are not new.
Indeed, in the last full calendar year, the only two F1 winners have been Red Bull and Mercedes.
"Ferrari and McLaren have no less a budget," said Horner.
"So it's down to the people, down to the skill and how you apply those budgets.
"It's the skill of a team, it's the skill of the drivers, it's the skill of a company how it's applying those resources to achieve the results," he added.