From press release
Ganassi driver Tony Kanaan topped a 60-minute practice session, Friday, ahead of the Indianapolis 500.
"It feels good to be up there today, but that's not what it's all about," said Kanaan, who qualified his No. 10 Dallara-Chevrolet in 16th position ahead of tomorrow's start. The Brazilian, who won last year, could become the first repeat winner at Indy since Helio Castroneves in 2002.
"Last year I was already happy with the car I got, but I think we've got a better car. But the field is definitely more competitive this year."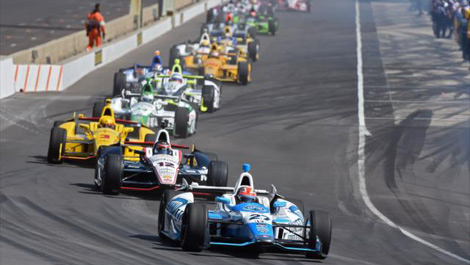 Cars leave the pits for practice (Photo: Walter Kuhn)
Castroneves agrees with his countryman: "It's always hard to win, no matter the number. I feel right now that things are so competitive," he said.
The three-time winner hopes to join A.J. Foyt, Rick Mears and Al Unser at the top of the all-time winners list.
"I also feel that we've taken care of ourselves and are prepared better," he added. "Every step of the way seems to be going well. I have the best guys and strategists that have won races. I guess our chances should be very high."