The new Porsche 919 LMP1 Hybrid will make its debut at Le Mans in just a few weeks. Here are seven interesting facts about the new Le Mans Porsche car.
1
A limiting factor for the performance of the LMP1-H Porsche 919 car is primarily the amount of fuel available per lap. This approach makes energy efficiency a primary factor.
2
The rule-makers have left the type and method of storing the retrieved energy up to the constructor as well as the choice of engine design and the displacement.
Photo: Porsche
3
The rules specify four classes of energy levels ranging from 2 to 8 megajoules (MJ). Porsche has registered the 919 Hybrid for the 6-megajoule category, which means that the LMP1 prototype can use exactly 1.67 kilowatt hours (kWh) of energy per 13.629km long lap on the "Circuit des 24 heures".
4
In covering 348 laps of the Le Mans circuit, the Porsche 919 would generate and use 581.2 kilowatt hours (kWh) – an electric output which would run a 60 watt light bulb for a staggering 9,687 hours.
5
With the energy the LMP1 Porsche prototype recuperates during the Le Mans race you could cover 4,576 km in the most efficient electric compact car, which would take you across the USA from coast to coast, from New York to Los Angeles.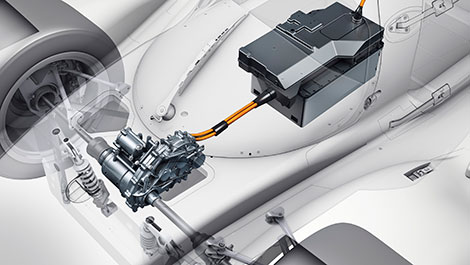 Photo: Porsche
6
The Porsche 919 is powered by a newly developed V4 turbo with two-litre engine displacement and direct injection. In the 6-MJ class, the rules allow a petrol engine with over 500 hp a consumption of only 4.78 litres per lap at Le Mans.
7
The LMP1 factory cars reach speeds significantly higher than 320 km/h several times during each lap, and twice they have to decelerate to urban traffic speeds at slow corners. The engines run at full throttle for about 70% of the lap.