Long before he became the head of Formula 1 operations at Renault Sport, from 2002-2008, Denis Chevrier had the immense privilege of working with Ayrton Senna. Here's his story.
In 1986, Chevrier was a Renault engineer assigned to the Tyrrell team.
"I first started working with Ayrton Senna in the winter of 1986, because the engineer who was assigned to him at Lotus could not make it for a test at Circuit Paul Ricard," Chevrier told Auto123.com.
"At the track, we tried a few things and Ayrton was all about progressing and improving. I mean, he could spend 15 minutes dissecting and analyzing a single corner, breaking it down to each tenth of a second and explaining to us why he did this or that — it was like watching a super slow-motion movie! We were using two pressure gauges: one for the left turbo, another for the right turbo. Guess what? Ayrton had all the exact numbers in his mind!"
1994 Grand Prix of Brazil. Denis Chevrier is leaning over the cockpit of Ayrton Senna's Williams. (Photo: WRi2)
After a brief stint in the rally car world, Chevrier returned to Formula 1, this time with Williams.
"When Senna arrived at Williams in 1994, we soon realized with our data acquisition systems that he knew exactly what he was talking about. Both he and our computers painted the very same picture of the car and the engine," the French engineer recalls.
"What really amazed me, though, was his willingness to share information. Ayrton firmly believed that this was the way to progress. We worked like crazy to improve the engine and, in turn, make him more comfortable behind the wheel. All the time he was talking more about what he felt in the cockpit than how the engine behaved."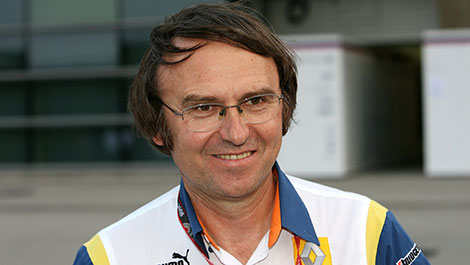 Denis Chevrier. (Photo: WRi2)
Unbelievable charisma
"Senna had tremendous raw skills. We knew he could be extremely fast with any car, but his ability to assess and analyze every detail made the difference. Again, I can't stress enough how progressing was important to him. He was a formidable team leader, one with whom we shared a great human adventure," Chevrier says.
"Ayrton once came to see us at Renault Sport in Viry-Chatillon, and even though he didn't speak French, we all got his message. He was a bundle of human warmth. His way of telling things, his eyes, aura, and determination convinced everyone around him that he was genuinely dedicated and committed to succeeding. The man had unbelievable charisma and convictions; he managed to get people to move mountains."
Chevrier adds: "Senna used to go out for dinner with team executives in his Lotus days. When other members of the crew joined them later in the evening, they were usually told that Mr. Senna had already taken care of the bill."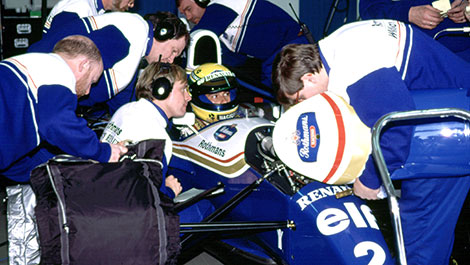 Ayrton Senna, Williams. (Photo: WRi2)
Tragically, Ayrton Senna's third Grand Prix with Williams turned out to be his last.
"In 1994, Senna didn't feel comfortable in the car. The steering wheel was too close, which hindered his blood flow," Chevrier confides. "During the Brazilian Grand Prix, his arms suffered terrible cramps, and he spun the car around. Back in the paddocks, Senna told everybody 'Sorry, I made a mistake. That won't happen again.' It wasn't actually his fault: We weren't ready. Any other driver would have come up with an excuse, but not Ayrton. He didn't try to hide, instead taking full responsibility for his actions. He was very classy; a great man indeed!"