The Grand Prix of Monaco is undoubtedly the most prestigious Formula 1 race on the calendar. Here are 8 things to know about the race held on the streets of Monte-Carlo.
1
The winner of the first Monaco Grand Prix in 1929, William Grover-Williams (a Frenchman despite his English name), would later become a member of the French Resistance during World War II before eventually being captured by the Germans and executed in the Sachsenhausen concentration camp near Berlin.
2
Nico Rosberg's father, Keke Rosberg won the race in 1983. The start was given on a damp track, but Rosberg, driving a less powerful Williams- Cosworth, quickly moved up to the front of the pack and won the race from the powerful turbo cars.
Keke Rosberg, Williams FW07 C-Cosworth, Monaco 1983. (Photo: WRi2)
3
The slowest corner of all Formula 1 races is the Grand Hotel downhill hairpin, taken in first gear at very low engine speed at about 65 km/h.
4
The great Ayton Senna holds the record for the highest number of race wins in Monaco with 6 (1987, 89, 90, 91, 92 and 93).
5
The oldest driver to take the start of an F1 Grand Prix was Frenchman Louis Chiron in Monaco in 1955 at the age of 55 years and 292 days. At that same race, Chiron also became oldest point scorer !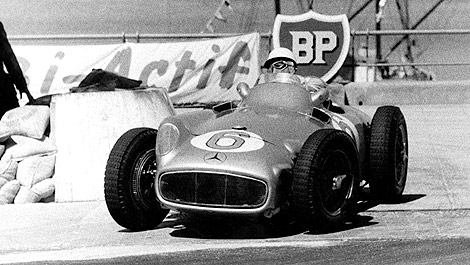 Stirling Moss, Mercedes W196 8, Monaco 1955. (Photo: WRi2)
6
During the final laps of the 1982 race, six different drivers traded the lead! Alain Prost spun and retired. Riccardo Patrese took the lead but spun and stalled his engine. Didier Pironi ran out of fuel, Andrea de Cesaris and then Derek Daly also spun. Patrese managed to get his engine restarted and won the race!
7
Michael Schumacher holds the lap record in 1m14.439 established in 2004 in his Ferrari.
8
The 1996 edition of the race went down in history as the smallest field to complete an F1 race – just three drivers made it to the end, with Olivier Panis, who started in 14th in his Ligier, claiming his only F1 win ahead of David Coulthard and Johnny Herbert.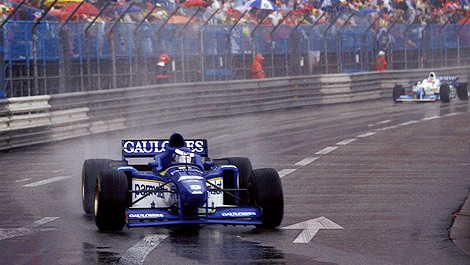 Olivier Panis, Ligier JS43 Mugen-Honda, Monaco 1996. (Photo: WRi2)