Continuing our popular series – Used Car Advice – we want to hit an issue in 2014 which is impacting on several car buyers: Paul sent us an email:
Hi there! I know ye guys can give advice on buying cars. Can you help us! We are currently driving a Ford Mondeo and while it's still pretty cheap to run (it's 2010 model) and there's plenty of space in the back for our two kids (ages 7 and 11) we're hoping to buy something smaller and release some equity. Can you give us some help here
This raises a really important issue. All vehicles, aside from a tiny proportion, will depreciate in value over the course of their lifetime. This means that every year you drive it you will depreciate its value more and more. Some factors can hurry up the depreciation process: your annual mileage is high, the car was involved in a significant impact, you have no service history records, there are a large number of owner changes on the car, the car was previously a taxi/hackney – factors like those can impact further on the value of the vehicle. However, aside from that, certain brands, and certain models in particular, can depreciate more than other equivalent models.
Ultimately, it's the market that decides the value of the vehicle based on the usual factors of supply and demand. Depreciation of a vehicle is a live issue which impacts on the cost of ownership and cannot under any circumstances be ignored when you are calculating the cost of ownership of a particular vehicle. In fact, day-to-day running costs can pale in comparison compared to annualised depreciation, especially in the case of premium marque models.
Downsizing
From time-to-time we get asked about the idea of downsizing. Effectively, this involves selling a vehicle to buy a smaller vehicle, while, at the same time releasing some equity in your current vehicle. In theory the idea is pretty sound but it's important to go about it the correct way.
Firstly, manufacturers are releasing more and more smaller vehicle's into the market, as there is an appreciation, at least in Europe, for cars that are easier to park in urban areas and which behave well in the city environment. It's likely this trend will continue – so downsizing is pretty much in vogue at the moment.
Secondly, you need to distinguish between downsizing and "going down the years". In Paul's case he could sell his current car and buy an older Mondeo – maybe acquire a 2008 registered model – which still avails of the cheaper taxation regime for lower emissions and he can probably hope to pocket some cash from that. If this is his idea then he'd be wise to keep all his options open: talk to a couple of different Ford Dealers to establish the best price for him, or, look to sell the vehicle himself privately, then use part of the proceeds to buy a used vehicle for cash (which should get him a discount). These would be the two obvious choices if he intends to stay within the same brand.
Downsizing would mean selling his current car and buying a smaller model, maybe another Ford, or maybe another marque altogether. So, in the case of Ford he might consider a Ford Focus, perhaps, or a good all-rounder for a smaller family like a Kia Cee'd which comes with a 7 year warranty from the date the vehicle is first registered.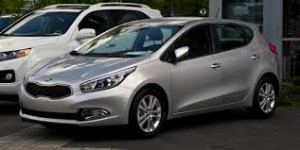 Ultimately, Paul can make a sum of money on either of these types of transactions, but, beware of the overall cost. If he is "going down in years" then his new car may require higher servicing costs – cars generally need more parts as they age. Also, the further down the years the buyer goes, the more precarious the market gets, as it can be more difficult to find a trustworthy, well-maintained "high-miler".
Our advice to Paul is to be careful, consider all your options, and sit down with a calculator and work it out. Ultimately, you need to be happy that you are making money longer term, as well as short term. And, of course, make sure the car you buy suits your needs as a family.