Verizon IndyCar Series team owner/driver Ed Carpenter claimed pole position for a second Indy 500 in a row.
He was the final qualifier May 18 in the Fast Nine Shootout on the 2.5-mile oval. He recorded a four-lap average of 231.067 mph in the No. 20 car to bump Canadian James Hinchcliffe from the top spot on the speed chart.
His four-lap average was the fastest since 2003, when Castroneves won the pole (231.725 mph) and was the race runner-up.
Hinchcliffe, who eight days earlier suffered a concussion in the Grand Prix of Indianapolis and was cleared to drive May 15, registered a fast lap of 231.618 mph on his first lap in the session and averaged 230.839 mph in the No. 27 car.
A few days after his crash, James Hinchcliffe gets a nice second place on the Indy 500 grid. (Photo: LAT for IndyCar)
Team Penske's Will Power (230.697 average) will start on the outside of Row 1 — his second front-row start.
Helos Castroneves, seeking his fourth Indy 500 victory, recorded the fastest qualifying lap of the two days (231.671) in the Fast Nine Shootout in the No. 3 Team Penske car. Simon Pagenaud (230.614) and Marco Andretti (230.544), who qualified third last year, will join Castroneves on Row 2.
Carlos Munoz, who started and finished second last year as a rookie, qualified on the inside of Row 3 (230.146) in the No. 34 Cinsay AndrettiTV.com HVM car. Josef Newgarden, in his third season with Sarah Fisher Hartman Racing, qualified eighth (229.893) and JR Hildebrand (228.726), the 2011 race runner-up as a rookie and the first qualifier in this session, qualified ninth.
Canadian Alex Tagliani will start the race from 24th in the Sarah Fisher Hartman Dallara-Honda while former Formula 1 World Champion Jacques Villeneuve will start 27th in the Schmidit Peterson Motorsports Dallara-Honda.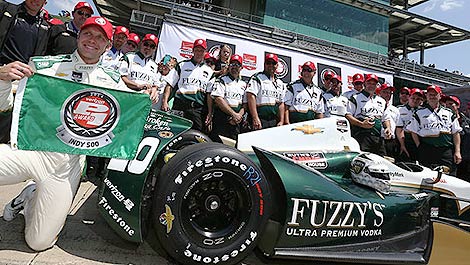 Ed Carpenter will start from the pole position at the Indy 500. (Photo: LAT for IndyCar)
2014 Indy 500 starting grid:
1. Ed Carpenter (Ed Carpenter – Chevrolet)
2. James Hinchcliffe (Andretti Autosport – Honda)
3. Will Power (Team Penske – Chevrolet)
4. Helio Castroneves (Team Penske – Chevrolet)
5. Simon Pagenaud (Schmidt Peterson Motorsports – Honda)
6. Marco Andretti (Andretti Autosport – Honda)
7. Carlos Munoz (Andretti Autosport – Honda)
8. Josef Newgarden (Sarah Fisher Hartman – Honda)
9. JR Hildebrand (Ed Carpenter – Chevrolet)
10. Juan-Pablo Montoya (Team Penske – Chevrolet)
11. Scott Dixon (Team Ganassi – Chevrolet)
12. Kurt Busch (Andretti Autosport – Honda)
13. Jack Hawksworth (Bryan Herta Autosport – Honda)
14. Justin Wilson (Dale Coyne Racing – Honda)
15. Mikhail Aleshin (Schmidt Peterson Motorsports – Honda)
16. Tony Kanaan (Team Ganassi – Chevrolet)
17. Sebastien Bourdais (KV Racing – Chevrolet)
18. Oriol Servia (Rahal Letterman Lanigan Racing – Honda)
19. Ryan Hunter-Reay (Andretti Autosport – Honda)
20. Graham Rahal (Rahal Letterman Lanigan Racing – Honda)
21. Carlos Huertas (Dale Coyne Racing – Honda)
22. Pippa Mann (Dale Coyne Racing – Honda)
23.Takuma Sato (AJ Foyt – Honda)
24. Alex Tagliani (Sarah Fisher Hartman – Honda)
25. Townsend Bell (KV Racing – Chevrolet)
26. Charlie Kimball (Team Ganassi – Chevrolet)
27. Jacques Villeneuve (Schmidit Peterson Motorsports – Honda)
28. James Davison (KV Racing – Chevrolet)
29. Martin Plowman (AJ Foyt – Honda)
30. Ryan Briscoe (Team Ganassi – Chevrolet)
31. Sage Karam (Ganassi with D&R Racing – Chevrolet)
32. Sebastian Saavedra (KV Racing – Chevrolet)
33. Buddy Lazier (Lazier Partners – Chevrolet)