From press release
It's a good day at the office when you earn $1 million dollar.
The driver of the No. 1 Chevrolet SS beat Kevin Harvick and Matt Kenseth to the checkered flag, Saturday night, to win the 2014 Sprint All-Star race at Charlotte Motor Speedway.
On top of the win, which was his third at CMS, McMurray also earned the $1 million dollar prize.
Jamie McMurray celebrates in victory lane (Photo: Jared C. Tilton/Getty Images)
The 37-year-old Earnhardt Ganassi Racing driver led three times for 31 laps throughout the five segments that made-up the 2014 Sprint All-Star race, taking the lead for the final time 9 laps from the end.
"This is just a really awesome moment," he said.
"It's so much different than winning the Daytona 500 or the Brickyard because there are no points, and I think the mentality going into that last segment is just all or nothing, and that was my thought process.
"I am like, I don't really care if we wreck, I don't care what happens, I'm racing for a million dollars, I get to start on the front row and I'm going to make the very most out of the restart and everything that goes with this."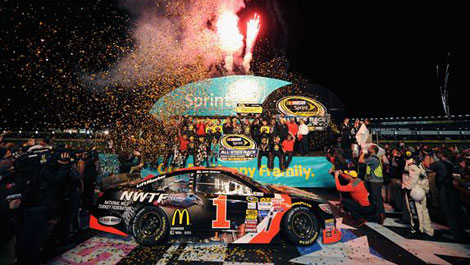 (Photo: Jonathan Moore/Getty Images)