From press release
He was revered as one of the best Japanese Grand Prix riders of the modern era, a rider from whom big things were expected after finishing the 1997 500cc Motorcycle Grand Prix season in fifth position for Repsol Honda.
Sadly Aoki suffered a spinal injury during a pre-season test at the Honda test course in Japan which paralyzed him from the waist down abruptly bringing his racing career to a halt.
Years of rehabilitation did little to stem his competitive urge. He became involved with the Honda factory as Assistant Director of Honda Racing but still retained that competitive urge and desire to race.
Photo: Asian Festival of Speed
An opportunity to realize a childhood dream and compete in the 2009 Dakar Rally came as part of an Isuzu team however Aoki retired early from the event. He continued to rally in the FIA Cross Country Rally series with some level of success, but was unable to experience the highs of his circuit racing career again until his debut in the 2014 GT Asia Series in Korea.
Campaigning a 550 horsepower V10 Lamborghini Gallardo LP520, Aoki joined former Asian champion and one-time 125/250 Grand Prix motorcycle rider Dilantha Malagamuwa in a two-car assault on the 2014 series, Aoki driving a specially modified GTM class car.
With inspiration from former F1 world champion Clay Regazzoni and former Indycar champion Alex Zanardi – both now wheelchair bound, Aoki met the challenge of competing against some of the regions best drivers head on.
Typically modest he explained that he had no great expectations going into the event, but would 'do his best'.
Despite no laps in the car prior to the first unofficial session at Korea International, Aoki was quickly up to speed, showing many of the signs that had marked him as one of the best during his time on bikes.
By qualifying his speed was clear. Third in the opening session despite just 15-minutes to post a time on the 5.6-kilometre Grand Prix circuit, Aoki improved to set the pole time for the GTM class in the second 15-minute session, but as an experienced racer, he wasn't getting too excited.
"The car is very easy to drive and I have a very good feel for it, so I will just keep practicing and see if we can make the podium in race one."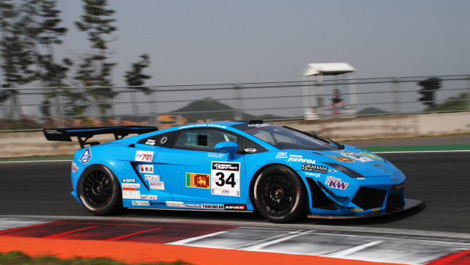 Aoki,Lamborghini Gallardo LP520 (Photo: Asian Festival of Speed)
And podium he did.
The look of elation on his face as he rolled onto the podium and was hauled onto the top step of the rostrum was priceless.
The were tears in the pit lane as the competing teams and fans were hit by the realization that Aoki had completed the one-hour race – his first in a GT3-specification car – with hand controls, in the process beating some very experienced drivers with years of GT competition under their belts.
"I'm very happy because this is my first international [circuit] race since my accident. I did not expect to win my first race, but I just kept pushing, pushing to do my best, and when the race is over I have come through for the win. I can still find more speed in myself, I just need to do more practice, but so far, I am very happy with the result."