From press release
Miguel Molina in the Audi Sport Audi RS 5 DTM of Audi Sport Team Abt Sportsline achieved a record lap and a possibly record-breaking advantage in qualifying for the DTM race at Oschersleben.
The Spaniard outperformed the second-placed BMW of Hockenheim winner Marco Wittmann by more than half a second.
Marco Wittmann, BMW M4 DTM (Photo: DTM.com)
At 1m 20.007s, Molina set a new track record and was the first DTM driver ever to have nearly broken the magic 'sound barrier' of 1m 20s at the Motorsport Arena. The Spaniard had immediately presented himself in top form at Oschersleben on Saturday.
He was the fastest driver in the free practice session and the fastest one in two of three qualifying sections. Right at the beginning of the decisive third segment (Q3), he managed to set the record lap that all of his competitors were subsequently unable to match.
Edoardo Mortara, Audi RS 5 DTM (Photo: DTM.com)
"Today, we again saw 'Magic Molina,' as Miguel used to be nicknamed in his team," said Dieter Gass, Head of DTM at Audi Sport.
"Taking grid position one with an advantage of half a second is a very rare occurrence in the DTM. This achievement and this lap deserve respect! Miguel was immediately strong here and, as before at Hockenheim, our RS 5 DTM is running really well too. Two qualifying sessions and two pole positions in succession – you can't wish for more than that. With four cars on the first three rows we've got a very good starting base. But we're not going to underestimate the competition – and the weather could also be making for additional suspense tomorrow."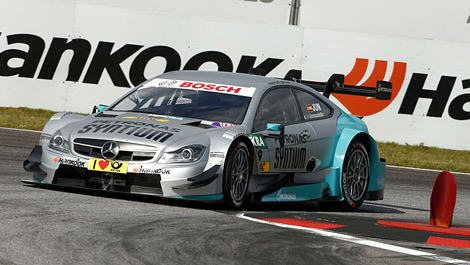 Daniel Juncadella, Mercedes C-Coupe (Photo: DTM.com)
"My third pole position in the DTM, my third one with Audi and Abt: I'm overjoyed," beamed the 25-year-old Catalonian.
"Everybody knows how difficult the DTM is. That makes us even happier. Audi Sport and Team Abt Sportsline did an outstanding job and gave me a fantastic car. My RS 5 DTM was perfect on each lap and very easy to drive – as a result, this lap time and the unusually large advantage almost happened automatically. I'd like to thank everyone who worked so hard for this."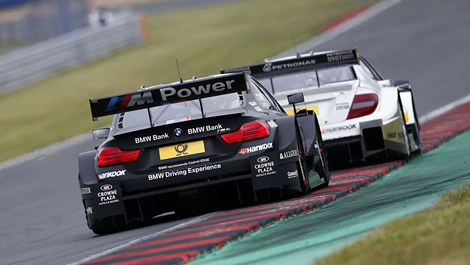 (Photo: DTM.com)
Qualifying results* - Oschersleben (round 2 of 10)
1.Miguel Molina (Audi RS5) – Abt – 1'20″007 – Q3
2.Marco Wittmann (BMW M4) – RMG – 1'20″516 – Q3
3.Adrien Tambay (Audi RS5) – Abt – 1'20″519 – Q3
4.Antonio Felix Da Costa (BMW M4) – MTEK – 1'20″582 – Q3
5.Timo Scheider (Audi RS5) – Phoenix – 1'20″668 – Q3
6.Mike Rockenfeller (Audi RS5) – Phoenix – 1'20″676 – Q3
7.Bruno Spengler (BMW M4) – Schnitzer – 1'20″703 – Q3
8.Edoardo Mortara (Audi RS5) – Abt – 1'21″113 – Q3
9.Augusto Farfus (BMW M4) – RBM – 1'20″663 – Q2
10.Pascal Wehrlein (Mercedes C-Coupe) – HWA – 1'20″668 – Q2
11.Jamie Green (Audi RS5) – Rosberg – 1'20″767 – Q2
12.Mattias Ekstrom (Audi RS5) – Abt – 1'20″788 – Q2
13.Martin Tomczyk (BMW M4) – Schnitzer – 1:20″801 – Q2
14.Maxime Martin (BMW M4) – RMG – 1:20″904 – Q2
15.Nico Muller (Audi RS5) – Rosberg – 1:20″957 – Q2
16.Joey Hand (BMW M4) – RBM – 1:20″973 – Q2
17.Christian Vietoris (Mercedes C-Coupe) – HWA – 1'21″082 – Q2
18.Gary Paffett (Mercedes C-Coupe) – HWA – 1'21″322 – Q2
19.Timo Glock (BMW M4) – MTEK – 1'21″439 – Q1
20.Robert Wickens (Mercedes C-Coupe) – HWA – 1'21″595 – Q1
21.Paul Di Resta (Mercedes C-Coupe) – HWA – 1'21″795 – Q1
22.Daniel Juncadella (Mercedes C-Coupe) – HWA – 1'21″915 – Q1
23.Vitaly Petrov (Mercedes C-Coupe) – Mucke – 1'22″132 – Q1
*Unofficial results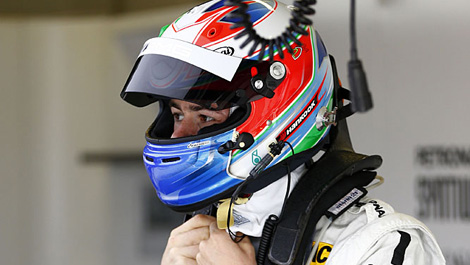 Paul di Resta (Photo: DTM.com)