From press release
Simon Pagenaud will celebrate the life of his hero, three-time Formula 1 World Champion Ayrton Senna, in the 98th Indianapolis 500 on Sunday, May 25 by wearing a helmet with a unique blend of Senna's design and Pagenaud's trademark red scheme.
"Ayrton Senna has been the inspiration for my entire life, whether I'm in a race car or not," Pagenaud said. "He was my hero as a child, my role model as a teenager and my example as a human and a race car driver."
Simon Pagenaud shwoing his tribute helmet to Ayrton Senna. (Photo: Schmidt Peterson Motorsports)
Pagenaud contacted the Senna family several months ago with the help of 2003 Indianapolis 500 winner Gil de Ferran to discuss the idea of bringing the famous yellow helmet to "The Greatest Spectacle in Racing" at the Indianapolis Motor Speedway.
"Ayrton's yellow helmet is recognized all over the world for the aura it had around one of the most special race car drivers we have ever known," Pagenaud said. "After meeting people who knew and worked with Senna and realizing how blessed I am to have made a life in racing for myself, as well, I wanted to carry Ayrton with me to another checkered flag."
The helmet will feature Senna's familiar yellow design on its front and sides, mixed with Pagenaud's traditional red design on the back.
After the Indianapolis 500, Pagenaud will auction the commemorative Senna helmet to benefit the Ayrton Senna Institute, which promotes children's literacy efforts.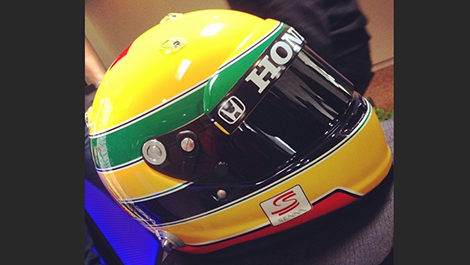 Pagenaud's tribute helmet to Ayrton Senna. (Simon Pagenaud Facebook)