The Honda CR-V is sort of like a Jaguar XKR, Porsche 911 or Lamborghini Gallardo: the name and reputation and brand loyalty help to sell a lot of units, because certain attributes and characteristics are guaranteed to be part of the package. You buy the CR-V, the XKR, the 911 or the Gallardo because it's the CR-V, XKR, 911 or Gallardo. For different reasons, mind you, but it's all in the name.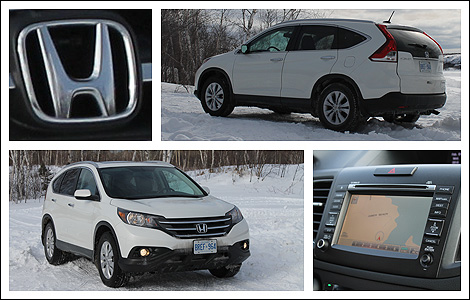 What is a 2014 Honda CR-V?
The 2014 CR-V carries over from this generation's launch in 2012 unchanged. As such, it remains a compact crossover staple that competes largely with the Mazda CX-5, Dodge Journey, Ford Escape, Jeep Cherokee, Toyota RAV4, Hyundai Santa Fe and other familiars.
All models get four cylinders, four-doors, five seats, available four-wheel drive and are available in numerous trim grades to suit a variety of needs and budgets.
2014 Honda CR-V Prices and Specs
For 2014, CR-V starts at $25,990 in LX trim with front-wheel drive, while an LX with AWD will relieve shoppers of $28,290. The EX trim grade starts at $29,190 spinning the front wheels and $31,290 driving all four. The EX-L, with standard AWD, starts at $33,490, and the top-line Touring model tested here was priced at $35,390.
All models get a 2.4L, free-revving VTEC 4-cylinder, making an athletic 185 horsepower, which are handled by a 5-speed automatic.
Driving the 2014 Honda CR-V
Honda's 'Real Time' All Wheel Drive (AWD) with intelligent control system was fitted to the tester, working to ensure quick and intuitive responses in low-traction situations. With winter tires mounted, traction was abundant– even on a late night drive through four hours of thick, heavy slush and snow. Driven through these conditions, your writer found the winter tires and AWD system to be only two of many attributes the CR-V boasts to help generate confident winter motoring.
Communicative steering and a 'light on its feet' feel mean drivers quickly feel a loss of traction right as it begins. There's no false sense of SUV winter-busting confidence here: if the CR-V is running out of grip, you'll know straight away. The brakes bite positively from an initial press, and the ABS activates with minimal noise or pedal vibration while turning in straight and drama-free stops on virtually anything. The stability control system increases dramatically in sensitivity at highway speeds too, often activating its warning light to correct slips and slides that aren't even perceptible yet.
Should traction be lost, understeer or 'plowing' is the likely result. This is typically easily recovered from, as the driver's natural reaction to ease off of the throttle and slightly apply the brakes will typically bring the CR-V right back in line. This is all to do with the way the suspension, AWD and stability controls are calibrated—and those shoppers after a machine that feels confident, predictable and stable on slippery roads will appreciate it.
Driven in nasty weather, CR-V drivers should expect to feel very connected with the road conditions, with the CR-V's limits, and very well backed-up.
Inside and Out of the 2014 Honda CR-V
CR-V's biggest strength and weakness both lie in its cabin. The key weakness is the styling. Even pushing $35,000 in 'Touring' trim, the tester was lined with fifty shades of grey plastic and lacking any accenting or flare. There's no color other than black or grey beyond the loonie-sized 'ECON' button on the dash, which sticks out like a sore thumb since its bright green.
Otherwise, it's simple and un-stimulating. Do you frequent the cardigan isle at Sears and sometimes fall asleep halfway through an episode of Matlock? It'll work well for you. Do you seek to derive enjoyment from your compact crossover's dashboard? You'll need to look at something else.
But the bland cabin is also a big strength where functionality and space are concerned. There's huge headroom. Clever door-mounted cubbies, 3 to be precise, are fitted to the front doors. The centre console is elbow-deep and fully covered. I was able to fit an entire, multi-lens SLR camera kit inside. You may choose to use it for a large water bottle, purse, small laptop and an assortment of children's toys or the like.
Front seats are comfortable and cushy and have great fold-down arm-rests, and build quality feels solid, dense and of high-quality, even if the materials selection won't blow anyone's socks off. The high-resolution backup camera was appreciated, as were the very easy to use control pads mounted to the steering wheel.
Comparing the 2014 Honda CR-V
Shoppers are advised to compare the Honda CR-V to comparable crossover offerings from Ford, Hyundai, Subaru and Toyota. Notably, crossovers from these manufacturers provide similar size and value, while some offer up-level engine options and features at the same price point.