Pros: Priced only $300 more than its sedan sibling, the Accent Hatchback proves to be a cost effective way to buy a hatchback without going up an extra trim level (like the Ford Fiesta). Also, both manual and automatic transmissions are available from the GL on all the way up to the top GLS trim. Hyundai knows how to pack in the features, such as heated seats on mid-level trims, making the Accent Hatchback a great content-minded purchase.
Cons: The Accent Hatchback's biggest downfall is from its sister company Kia. Just by crossing the street you can compare the Accent with its Kia twin, the Rio, which is arguably the better looking of the pair.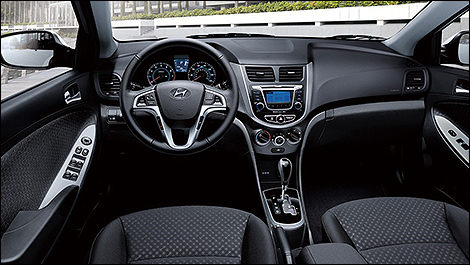 Photo: Hyundai
2014 Hyundai Accent Hatchback Pricing: Pricing for the Accent Hatchback (4-door) starts at $13,799 for the base model L trim and manual transmission. GL models jump to $16,199 and add air conditioning, cruise control, front heated seats, Bluetooth, steering wheel audio controls, telescopic steering wheel, and 60/40 split-folding rear seats. GL Auto models jump to $17,499 with the same equipment. GLS models receive leather wrapped steering wheel, power sunroof, 16-inch alloy wheels, automatic climate control, and fog lamps starting at $17,799, while those looking for the automatic model will need to shell out $19,049.
2014 Hyundai Accent Hatchback Economy: While only available with a single motor – a 1.6L direct injection four-cylinder – both six-speed manual and automatic transmissions are offered. On the EnerGuide cycle, manual transmission models are rated at 7.5/5.3/6.5L (city/highway/combined) per 100 km. Automatic transmission models rate almost exactly the same at 7.6/5.2/6.5L (city/highway/combined) during the same testing.
Improvements and Changes: For 2014, Hyundai's subcompact gets some additional equipment. All trims now get an included sliding sun visor. A voice activated audio system with Bluetooth trickles down from the GLS trim and is now available on GL models. Those looking for telescopic steering can now find the feature on both GL and GLS models.
Don't Miss: Adding air conditioning to the base L model tacks on an additional $2,005.95 and erodes its value proposition. If you must have AC, just jump up a trim and get the additional equipment at a discount.
2014 Hyundai Accent Hatchback Powertrain: Only one engine is offered, however it is fairly modern and features direct injection. The 1.6-litre four-cylinder mill produces a class-leading 138 hp at 6,300 RPM while coaxing up 123 lb-ft of torque at 4,850 RPM. It's slightly thirstier than some of its subcompact competitors, but the increased power more than makes up for it. Also, the Accent is the only car in its class to offer six-speed transmissions in both manual and automatic flavours.
Safety: The Accent Hatchback comes standard with six airbags (front, front seat-mounted side, and side curtain) available on all trims. Vehicle Stability Management, Electronic Stability Control, and Traction Control System will do there best to keep you between the ditches, as will the standard four-wheel disc brakes and ABS. However, should you find yourself on the other side of a guard rail, front active head restraints work in conjunction with the six standard airbags.
Comparables: The Accent Hatchback competes with its crosstown rival, Kia Rio 5-Door, as well as hatchback variants of the Chevrolet Sonic, Ford Fiesta, Honda Fit, Mazda2, Nissan Versa Note, and Toyota Yaris.