From press release
CTCC and DBA USA are pleased to announce their partnership for the 2014 season. The partnership will provide DBA with the opportunity to promote their brand and expand their reach in the Canadian market.
Disc Brakes Australia (DBA) is an Australian owned manufacturer, designer and global marketer of after-market and OE disc brake rotors.
DBA is proud to have supported CTCC driver Damon Sharpe during his successful drive to two consecutive Touring Class championships in 2012 and 2013. This season will see DBA expand their support to all Touring Class drivers.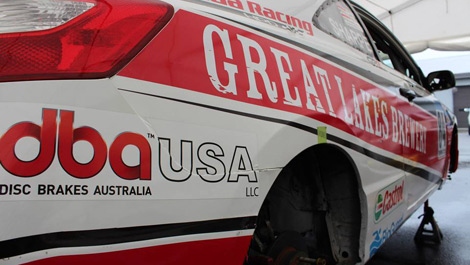 Photo: Blanchet Motorsports
At each event, DBA will reward one of the Touring Class drivers that finish the feature race of the event with a pair of DBA rotors.
"We are looking forward to partnering with CTCC," stated Yoni Kellman of DBA USA LLC. "It will give DBA an opportunity to showcase its product with some of the top drivers in Canada."
"DBA is a perfect fit for CTCC," commented John Bondar, President of CTCC. "Their products will help to enhance competition in our already extremely competitive Touring Class which will help to showcase the quality of their products."