Consumers often think cheap and cheerful when thinking of small cars, but this is certainly not the case with the 2014 Ford Focus — in fact, far from it. The heavy European influence in its styling and design points to the fact that small is still considered beautiful by our friends across the pond, and that size shouldn't necessarily relate to comfort and prestige.
Yes, the Ford Focus skips the no-frills small-car image entirely and looks upmarket in all of its guises, particularly in the case of the top-of-the-line Titanium model (our tester). It's a vehicle up for the challenge of comparison with the likes of BMW's MINI, VW's GTI, and perhaps even certain Fiat 500 models we've seen of late. These obviously all differ in style/size/performance and in certain other aspects, yet they all have one particular thing in common, you're just as likely to see one of these parked in the garage alongside their owners' other cars (an S-Class, an Audi A8, or even a Bentley) because they're simply perfect for everyday use!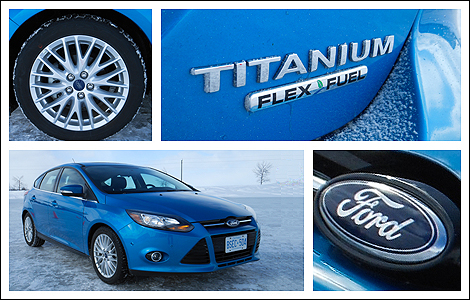 What is a Ford Focus?
On North American roads for well over a decade now, the Ford Focus is a compact car and for the first part of 2012 actually overtook the Corolla as the No. 1 selling nameplate in the world. Now in its third generation, the Ford Focus is offered as a hatch or sedan and in with a variety of powertrain options as well as trims.
2014 Ford Focus Titanium Price & Specs
Our 2014 Ford Focus five-door Titanium hatchback started out at $25,799. However, add power moonroof, power driver's seat, Nav and the automated parking system, plus a few other items like the Blue Candy Metallic paint and delivery charges, and you end up at just a tad over $30k ($30,777). For this, you'll receive a well-appointed five-door parking-friendly hatchback with enough curb appeal to take on any in its class and one or two above!
Driving the 2014 Ford Focus Titanium
The Focus drives like a Euro-designed vehicle, which means it's tight and maneuverable in the twists and turns, yet can occasionally yell ouch should you come across one of those road craters we Canadians call "winter potholes" (I guess they don't have those in Europe). Of course, all vehicles are a compromise when it comes to handling and comfort, and smaller cars typically mean shorter wheelbases that only exacerbate the issue. On the other hand, with its wheels positioned as they are on the Focus, the vehicle performs quite well on highway surfaces.
Its 2.0L I-4 GDI engine provides plenty of power, although I found the 6-speed automatic occasionally confused about what I wished it to do with said power (I'd probably prefer the optional manual box myself). However, it's a fun and quite lively machine that offers reduced body roll compared to many in its category.
Being a somewhat sporty hatch, overall vision is relatively good until one glances in the rearview mirror. However, this minor irritant is taken care of by the suitably sized door mirrors Ford has seen wise to fit. So, although this takes some adjusting to, it's not really an issue.
Inside and Out of the 2014 Ford Focus Titanium
The exterior of the 2014 Ford Focus Titanium is bang up-to-date in design terms. Its face supplies just the right amount of aggression (I like this on a small car), and its stylish headlamp units positively dominate the rest. With some well-chosen 17" rims and a hint of chrome here and there, this little hatchback simply oozes class.
Stepping inside, buyers enter a well laid out cockpit where each and every control appears to be exactly where one might expect them to be, and the quality matches the looks of the exterior. Take the steering wheel for instance, which is quite chunky and sports-like, yet well designed with its controls not looking like an afterthought.
The Focus Titanium is jammed packed with the up-to-the-minute technology we've come to expect from Ford. It surely carries enough features to please anyone/everyone, and the optional Automated Parking System will certainly appeal to downtown buyers.
Comparing the 2014 Ford Focus Titanium
The 2014 Ford Focus Titanium plays in a fairly hectic marketplace, as several small-car products are now upping their game. Its competition; MINI Cooper, VW Golf, Fiat 500, Mazda3, Chevy Cruze, Mitsubishi Lancer, Nissan Sentra… How many more would you like?
The Focus is, however, one of the true benchmarks in this field and it's not difficult to see why. As I've mentioned above, the Ford Focus Titanium is as much at home on the streets of London/Paris as it is parked on a driveway in Mississauga or Montreal. Put simply, it's a vehicle which fits nicely into anyone's lifestyle and, if other motorists feel you're only driving the Focus because your Bentley is in for service, is that really going to upset you?