From GMM
If Renault cannot improve its engine, Mercedes will run away with the 2014 title.
That is the warning of Dr Helmut Marko, an outspoken director of the Renault-powered reigning world champions Red Bull.
Engine supplier Renault has improved its troubled new turbo V6 engine since a disastrous winter season, but Marko told German-language media that the French marque needs to work even more.
"If our engine starts to work, then we have the opportunity to be back at the top," the blunt Austrian said. "But if it remains as it is now, then I have to congratulate (Mercedes team chairman) Niki (Lauda) that his two drivers will stay lost and lonely out the front."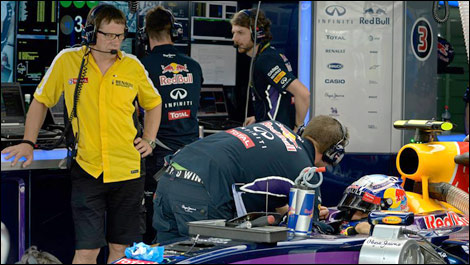 Renault at work in Red Bull's garage. (Photo: Renault Sport F1)
Helmut Marko said Red Bull has been working closer than ever with Renault to solve the problems.
"I have often been in France and know a lot more about modern engine technology," he smiled.
"In this emergency situation, we have made it an issue of Red Bull, Toro Rosso and Renault," Marko revealed. "We have also included Styrian (Austrian) companies, because without Styria, nothing works," he joked.
"We discovered a lot of mistakes and are now somewhat positive that we can make a strong step forward for the European races," added Marko.