From Honda Performance Development
Honda Performance Development will offer customer teams around the world the very latest in LMP2 closed-cockpit sports car technology next year, with the unveiling of its new HPD ARX-04b LMP2 Coupe.
The new design is a result of the continuing teamwork between California-based HPD and England's Wirth Research.
ARX-04b LMP2 Coupe. (Photo: Honda Racing/HPD)
The ARX-04b sports car is fully compliant with the new ACO LMP2 regulations, and exceeds the latest safety standards of the new enclosed-cockpit configuration.
The proven 2.8-litre twin-turbo, direct injection, production-based Honda HR28TT V6 powerplant now includes a regulation compliant drive-by-wire throttle system and fresh air valve system, eliminating turbo lag and providing improved reliability and performance.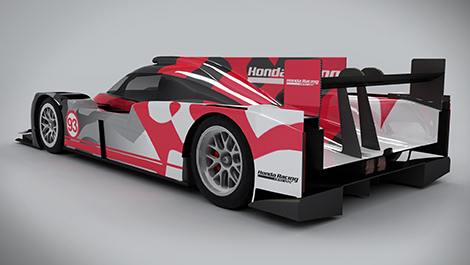 ARX-04b LMP2 Coupe. (Photo: Honda Racing/HPD)