From GMM
When it comes to engine noise, most F1 players are open to turning up the volume of the turbo V6s.
"We're examining this problem with the three engine manufacturers involved in F1," said FIA president Jean Todt.
However, the Frenchman – who rebuked Red Bull's Sebastian Vettel for using an expletive to describe the quieter sound – said it is obvious that those making the loudest complaining noises are the ones who are struggling.
"Do you hear Nico Rosberg complaining?" said Jean Todt. "Did you hear Sebastian Vettel complaining last year?"
But even the engine sound will not change unless Mercedes – the dominant V6-powered force – and its happy customers agree.
"We need the unanimous agreement of teams, otherwise we can't change anything," said Todt.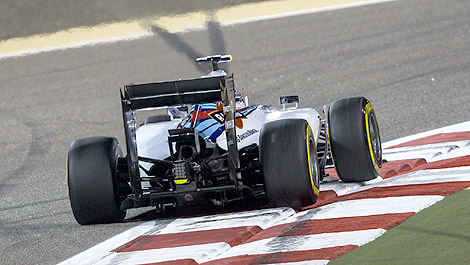 Williams FW36-Mercedes. (Photo: WRi2)
So when it comes to removing fuel flow meters, adding fuel or shortening the race distances, Todt warned that the only way Mercedes' competitors can catch up is by doing a better job.
"It seems that Mercedes is stronger. I don't have the power to say 'let's slow them down'," he said.
That attitude is music to Mercedes' ears.
"I think Jean has taken a very sensible line, so I hope all of that (rule change talk) could be put behind us," said team boss Paddy Lowe.
Without a doubt, Sunday's thrilling Bahrain grand prix has also buried a lot of the arguments about F1 needing to urgently change because the races are boring.
"I think if we were to ask Nico Rosberg and Lewis Hamilton, they would not see themselves as taxi drivers," Todt, referring to Ferrari president Luca di Montezemolo's criticism of the 2014 formula, is quoted by German media.
Britain's Sun newspaper agreed: "Sorry Luca, the only taxi is for you."
The actual engine sound, however, is another matter, as even Mercedes agrees that the fans should be listened to.
"If this is an issue, let's work on it, let's understand what we can do," said Toto Wolff. "But this is a defined topic, not the sport as an overall."
Jean Todt, however, insisted there is even an upside to the quieter engines.
"To get passion and emotion, you need to have some noise. We must see if we can implement a bigger noise. (But) my friend Bernie has a hearing aid because his hearing has been destroyed by the noise," he told the Times.