The First in-season Formula 1 test is now underway at Bahrain, less than two days after the Grand Prix. The test is held today, Wednesday and tomorrow.
Nico Rosberg is behind the wheel of the Mercedes W05 while his teammate Lewis Hamilton will then take over from the German tomorrow.
Lotus is running Pastor Maldonado, performing a series of aerodynamic-measuring devices.
Spaniard Fernando Alonso will be driving for Ferrari on both days.
McLaren changed their plans late Monday night and announced that Kevin Magnussen will test on both days in the MP4-29.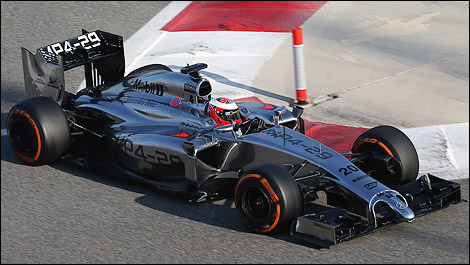 Kevin Magnussen, McLaren MP4-29-Mercedes in Bahrain. (Photo: WRi2)
The team had originally planned to run test driver Oliver Turvey on Tuesday with highly rated youngster Stoffel Vandoorne replacing Turvey on Wednesday.
It's understood that Vandoorne and Turvey will both test during the remaining three in-season tests of the year with Button happy to allow Magnussen to run on both days this week.
Bahrain in-season test – confirmed driver line-ups:
• Red Bull – Tuesday: Daniel Ricciardo; Wednesday: TBA.
• Mercedes – Tuesday: Nico Rosberg; Wednesday: Lewis Hamilton.
• Ferrari – Tuesday and Wednesday: Fernando Alonso.
• Lotus – Tuesday: Pastor Maldonado; Wednesday: TBA.
• McLaren – Tuesday and Wednesday: Kevin Magnussen.
• Sahara Force India – Tuesday: Nico Hulkenberg; Wednesday: Sergio Perez.
• Sauber – Tuesday: Sergey Sirotkin; Wednesday: Giedo Van der Garde.
• Toro Rosso – Tuesday – Daniil Kvyat; Wednesday: TBA.
• Williams – Tuesday: Valtteri Bottas; Wednesday: Felipe Massa.
• Marussia – Tuesday: Max Chilton; Wednesday: Jules Bianchi
• Caterham – Tuesday: Robin Frijns; Wednesday: Marcus Ericsson.