Last year, Team Auto123.com picked up our first long-term tester in a long while: the 2013 Hyundai Santa Fe. Our extra time with our Auto123.com award-winning Santa Fe not only revealed a number of new elements, but also solidified and even discounted some of our impressions. The experience turned out to be very rewarding and so we're doing it again.
This time 'round, we've selected a 2015 Mazda CX-5 that, like the Hyundai before it, was chosen as one of our favourite vehicles in its category. It won the best compact utility vehicle of the year and thus deserved to come and spend more time with us.
Photo: Philippe Champoux
Small in size, big in stature
As the replacement for the then popular CX-7, Mazda took a calculated chance by introducing what has turned out to be a hole-in-one. The CX-5 landed as a 2013 and has since only improved and found more and more love among consumers in this highly contested and trendy segment.
Over these last 2 years, the Mazda CX-5 has impressed us with its surprisingly agile and sorted drive, its economical powertrains and well thought-out interiors.
If the initial offering had only a 2.0L 4-cylinder engine on offer that left us wanting more, Mazda quickly addressed the issue by upping the ante with a SKYACTIV 2.5L that elevated the CX-5 to its current No. 1 in our minds.
Despite its smallish exterior dimensions, the 2015 Mazda CX-5 carries itself with confidence and looks really good at it in the process.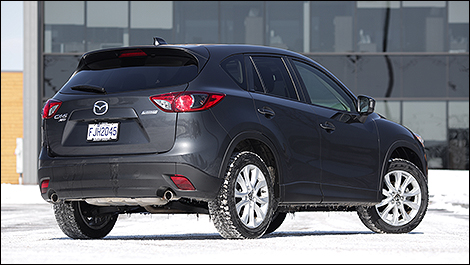 Photo: Philippe Champoux
These are the days of its life
Our Meteor Grey Mica CX-5 GT with Technology Package is already hard at work proving its mettle with some Auto123.com staff members and will take part in a few videos and photo galleries where it will be evaluated by people on a few specific points.
So far, those who have spent time with the 2015 Mazda CX-5 have all appreciated its quality and sporty European-inspired ride and sharp reflexes. Fuel consumption numbers are good even when taking into consideration the hellish winter we've had.
Read on!