Lotus F1 Team driver, Venezuelan Pastor Maldonado has been heavily penalised for causing the crash that caused the Sauber of Esteban Gutierrez to roll over during the Grand Prix of Bahrain Sunday.
On lap 41 of the race, Maldonado exited the pit lane after his tire change, and tried to pass the Sauber going to Turn 1. Gutierrez was racing, and obviously never expected the Lotus driver to attempt such a (daring) move on the inside.
The Lotus did not suffer any serious damages, and Maldonado continued to race and crossed the line in 14th place. However, he was issued with a 10-second stop/go penalty.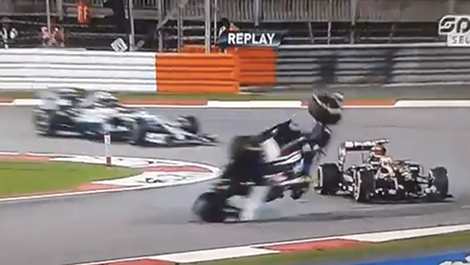 Maldonado-Gutierrez collision (Screen capture FOM)
After the race, the race stewards also issued him with a five-place grid drop for the Grand Prix of China in two weeks, and put three points on his Super Licence.
Speaking after the race, Maldonado said he was a bit uncertain as to how the incident unfolded.
"We will need to have a look again at what happened as Esteban seemed to be off his line coming into Turn 1 – maybe he missed his braking point, I don't know – and by then I was in the corner with nowhere to go," said Maldonado.
"For sure it's difficult to understand and I was coming out from the pits and with cold tires. I think he was very unlucky and it's good he jumped straight out of the car".
Despite the heavy force of the impact, Esteban Gutierrez was able to climb out of his damaged Sauber C33 and was taken to the circuit's medical centre for mandatory checks. He was luckily okay.