McLaren-Mercedes Formula 1 team plans to build a total of only four MP4-29 chassis this season.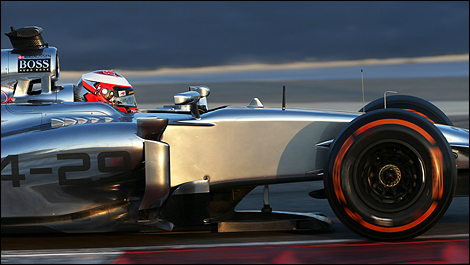 McLaren MP4-29 (Photo: McLaren)
That might sound quite paltry for a sport that's rightly considered the pinnacle of automotive engineering, but, in fact, it's a reflection of the lean, efficient way in which modern F1 operates.
Back in the 1990s, McLaren was running three distinct teams – one race team, and two operationally independent test teams – you needed the chassis to back them up.
By the early 2000s, it wasn't unusual for a top outfit to have a test team stationed down at Barcelona testing tires, and another at Paul Ricard trying the Monaco aero package – all while the race team's trucks trundled back from a weekend in Imola.
In those days, it wasn't unusual for a team to knock out eight or nine tubs per year. McLaren built an incredible 11 MP4-6 chassis in 1991.
Such profligate production came to a halt in 2009, when all teams voted to abandon in-season testing, instead jointly agreeing to a series of tests before the season kicked off.
Since 2010, McLaren has produced just four chassis every year. Let's look at the four MP4-29 chassis scheduled for this season.
Chassis No. 01 has so far done the majority of 2014′s legwork; it was the car placed under the spotlight at the car launch on January 24, and it's the chassis that did the Jerez test in early February. It's since been returned to McLaren Technology Centre, re-built, modded and painted and freighted to Bahrain, where it was the spare at last week's test, and will be pressed into service again later this week.
Chassis No. 03 was the running car for the first Bahrain test, and will also undertake testing duties this week – it then hurries back to MTC, gets dressed (ie: it gets a new paintjob) and is rushed out to Melbourne, where it's the last of three cars to arrive for the Australian Grand Prix.
As such, it's the car that will sit in the back of the garage in stripped-down tub-form – only being pressed into service if the team damages one of the two fully built-up race cars.
Chassis No. 01, the star of Jerez, also goes back to MTC for a wash and a scrub, but it and its sibling, chassis No. 04, fly to Melbourne five days earlier than the spare chassis, becoming the two race cars that are currently slated to contest Australia, Malaysia, Bahrain and China.
Chassis No. 02 is not due to take to the track until the post-Bahrain Grand Prix test in early April.