Like the old romantic song about love; Dale Earnhardt Jr. thought winning the Daytona was better the second time around.
"I was thinking about that," said Earnhardt who first won the Daytona 500 ten years ago, just three years after his father died at Daytona. "When I crossed the finish line, I was relieved that I've done it again and I've done it with the people I'm with. Initially the reaction was, this is better because I'm back in Victory Lane."
In fact he was on the radio screaming, "we're going to burn this place down".
Dale Earnhardt Jr. crosses the line. (Photo: Tom Pennington/Getty Images)
After one hour of taking ceremonial winner's pictures he was talking about it again.
"It's different because it's the people, you know." Earnhardt continued, "I was talking about that earlier.  It's better because you had a taste of it before.  To win it the first time, you are blown away and sort of overwhelmed.  The experience is a blur.  It doesn't sink in.  You don't absorb much of the whole thing.  I can't even remember half of it even after the fact, what we did that week.  I don't even remember going over and putting the car in there.  It was just all so much of a flash.
"So now I realize that. I'm surrounded by so many great people. We got a great team. So many people are able to enjoy this. I'm reminded to let it sink in, reminded to enjoy it. I really enjoyed driving down in front of the fans there. I was having the time of my life inside that car going down the front straightaway.
"When I got to Victory Lane, I couldn't wait to hug everybody, just enjoy it. Didn't do that the first time 'cause you're just blown away.
"So this one's funner."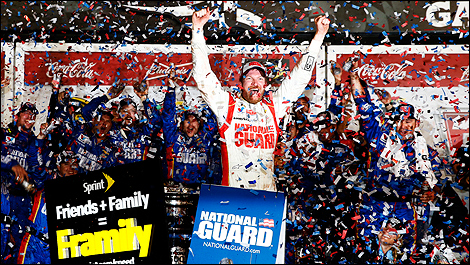 Dale Earnhardt Jr., 2014 Daytona 500 winner. (Photo: Tom Pennington/Getty Images)
It was so much "funner" that he got team owner, Rick Hendrick, to try to ride with him to Victory Lane. Hendrick, seemingly, swore off riding in a real Sprint Cup racing after once trying it with Jimmie Johnson.
"When I got to the car, he said 'Get in'", Hendrick said of Earnhardt. "I was so excited, I got in. When we got to that corner at the gate, I couldn't hold on inside. The roll bar was slick or something. I almost fell out. I was hollering, Stop. I almost didn't come in here tonight. Probably would have been over to Halifax (the nearby hospital).
"I won't do it anymore," Hendrick added. "I better not say that. But I think the emotion just got me as soon as I got to the window.
Then Earnhardt joked about a way to get the boss in his car after a win. "Need to learn how to get those side windows out, that way you can ride in the passenger seat," said Earnhardt.
"As soon as I got over there, he said, Climb in," Hendrick said. "I didn't even think about it. I'll think about it again because I almost fell out. I was wedged in with Jimmie. My legs were wedged up under the steering wheel. Riding like I was riding a bull. This time I almost did fall out."
Yeah, perhaps winning the Daytona 500 is better the second time around. At the very least it was "funner".