Lotus' technical director, Nick Chester claims the team is making 'strong progress' with its new car, the E22-Renault, despite it completing just 111 laps on its official debut in Bahrain last week.
"Certainly, we started from a position very far from where we want to be," explained Chester in an interview on Lotus' official website.
"On the first day (in Bahrain) we completed a mere seven laps, then 18, then next 26, and 59 by the final day, so we are heading in the right direction in terms of track time – and time on the track is what we need to understand and develop the car.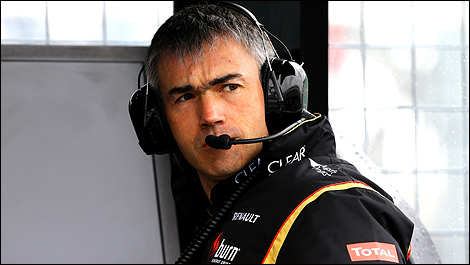 Nick Chester, Lotus' technical director (Photo: WRI2)
"We have to remember this is very sophisticated new technology we are running and we are adopting a cautious approach to understanding how everything should work," he continued.
The British engineer thinks that the lap times posted by Pastor Maldonado and Romain Grosjean in Bahrain are very encouraging.
"The correlation of how the car looks in the wind tunnel and in simulations relative to how it performs aerodynamically on track seem to be good, which is encouraging for future developments with the car," he said.
Pastor Maldonado, Lotus (Photo: WRI2)
"The last day of running was very productive and has given us a lot of data to work with going forwards.
"There is still a lot of pace to be found from the E22. We're working with Renault Sport F1 on the operation of the power unit, we only ran the power unit at representative power levels during the last day of the test and there is more time to come from optimising power delivery and allowing the drivers more time to get used to it. We haven't started looking at car setup yet which will unlock more performance."
Lotus will have a final opportunity to hone the E22′s setup ahead of the first race in Australia at this week's final pre-season test in Bahrain, which runs from February 27 to March 2.
"All teams will be concentrating on race simulations at this week's Bahrain test to prepare for Melbourne," Chester declared.