A rare mechanical problem forced six-time Canadian rally champion Antoine L'Estage to give up on a good result at this weekend's 100 Acre Wood Rally, in Salem, MO, round two of the Rally America season.
The event was dominated by no other than the famous Ken Block, who clinched his seventh 100 Acre Wood win at the finish, driving his Hoonigan Racing's Ford Fiesta.
Ken Block, Ford Fiesta (Photo: Alex Haugen)
L'Estage was fighting for second place with David Higgins until an engine failure forced the Brit to retire on stage 9, ending the Subaru Rally Team USA driver's run of 22 consecutive podium finishes.
But L'Estage's run in second position was short-lived, as the engine of his Mitsubishi Evo X terminally overheated four stages later. The French Canadian's unlucky break allowed the returning Travis Pastrana to take home second in his first rally in three years.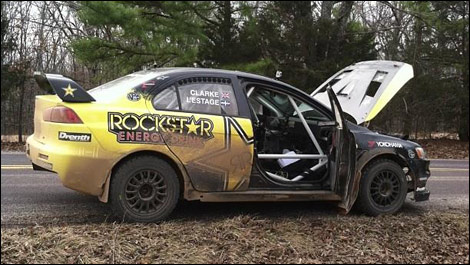 Antoine L'Estage, Mitsubishi Evo X (Photo: Facebook)
Event winner Block was sorry to lose Higgins and L'Estage so soon: "Unfortunately, my top competition fell out on day two and I was able to extend my lead. It took some pressure off, which I don't like, because I like to push hard.  Instead, I was able to just enjoy these roads and put on a good show for the fans," he said.
Canadian Andrew Comrie-Picard won the Two-Wheel Drive category aboard his Team O'Neil Ford Fiesta.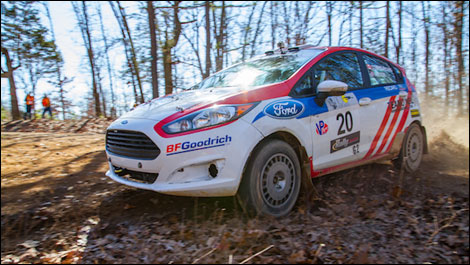 Andrew Comrie-Picard, Ford Fiesta (Photo: Alex Haugen)