German Nico Rosberg recorded a blistering time of 1min33.283s aboard his Mercedes W05 to keep the Brackley outfit on top on the final day of this Bahrain winter test.
The 28-year-old, who was 1.5s quicker than McLaren's Jenson Button, the second-fastest driver of the day, completed a total of 89 laps of the Bahrain International Circuit.
Nico Rosberg, Mercedes W05 (Photo: WRi2)
"This morning we were able to try some qualifying practice runs which felt good," said Rosberg. "Later in the day, we did a race simulation. (…) My head was full of information!"
His best time Saturday was the quickest of the four-day pre-season venue, and less than a second shy of his best V8-powered time of last year at the same circuit.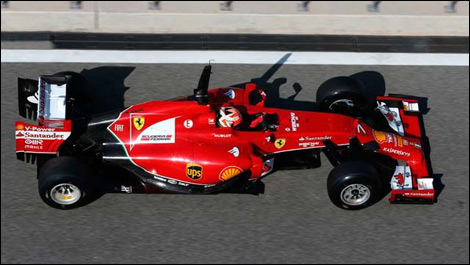 Kimi Raikkonen, Ferrari F14T (Photo: WRi2)
Ferrari's Kimi Raikkonen crashed late in the day but still managed to be third fastest aboard the F14T.
"I spun on the kerb at the exit of turn 4, there things can happen. Luckily, it was right at the end of the day."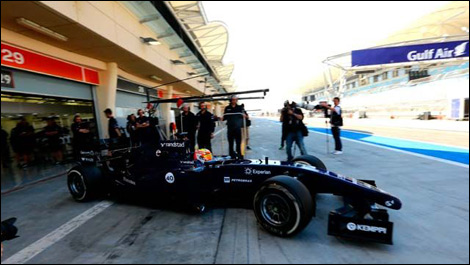 Felipe Nasr, Williams FW36 (Photo: WRi2)
Driving a Formula One car for the first time, Brazilian Felipe Nasr was an impressive fourth. It was announced earlier today the 21-year-old will be Williams' test and reserve driver this season. He completed 87 laps behind the wheel of the FW36.
Pastor Maldonado was fifth fastest for Lotus, while Red Bull endured another difficult day. Daniel Ricciardo only managed 15 laps throughout the day. The Australian settled for seventh fastest.
"In all honesty it wasn't a great day today," said Ricciardo. "I guess we still need more time. We have four more days coming up and hopefully we can maximise those.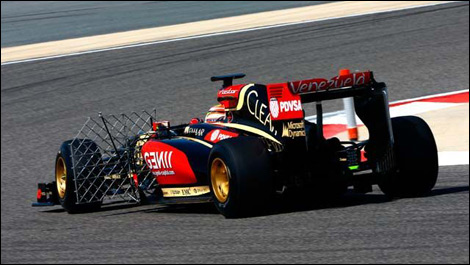 Pastor Maldonado, Lotus E22 (Photo: WRi2)
Best lap time in 2013:
Nico Rosberg, Mercedes AMG in Q3: 1m32.330
Best lap time, Day 1:
Nico Hulkenberg, Force India, 1m36.880
Best lap time, Day 2:
Kevin Magnussen McLaren, 1m34.910
Best lap time Day 3:
Lewis Hamilton, Mercedes, 1m34.263
Unofficial Saturday test times from Bahrain

1. Nico Rosberg, Mercedes, 1m 33.283s, 89 laps

2. Jenson Button, McLaren, 1m 34.957s, 66 laps

3. Kimi Raikkonen, Ferrari, 1m 36.718s, 82 laps

4. Felipe Nasr, Williams, 1m 37.569s, 87 laps

5. Pastor Maldonado, Lotus, 1m 38.707s, 59 laps

6. Sergio Perez, Force India, 1m 39.258s, 19 laps

7. Daniel Ricciardo, Red Bull, 1m 39.837s, 15 laps

8. Jean-Eric Vergne, Toro Rosso, 1m 40.472s, 19 laps

9. Kamui Kobayashi, Caterham, 1m 43.027s, 17 laps

10. Marcus Ericsson, Caterham, 1m 45.094s, 4 laps
11. Adrian Sutil, Sauber, no time, 7 laps

12. Jules Bianchi, Marussia, no time, 5 laps