British driver Lewis Hamilton Friday set the fastest time in the third day of the second Formula 1winter test session in Bahrain.
Driving the Mercedes W05, Hamilton set a 1m34.263 and completed 67 laps of the 5.412-km Bahrain International Circuit.
Lewis Hamilton, Mercedes AMG (Photo: WRI2)
The program consisted of short runs on the softer tire this morning, followed by an attempted race distance. A failure on the car interrupted the race simulation late afternoon; however Hamilton completed another 22 laps once fixed.
Jenson Button was second quickest in the McLaren-Mercedes, 0.7 second slower than Hamilton.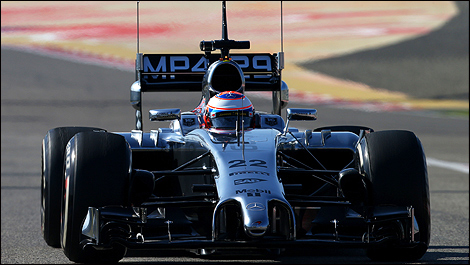 Jenson Button, McLaren (Photo: WRI2)
Felipe Massa again proved the good form of the Williams, setting the third fastest time of the day, and completing 60 laps.
"The main target for today was to practice pit stops with the race team," said Rod Nelson, Chief Test & Support Engineer.
"We ended up doing 43 live pit stops and went through our race start procedures. We then did some chassis work at the end of the day with Massa to try and make up for some of the time he lost on day one".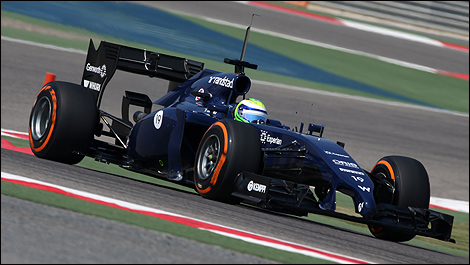 Felipe Massa, Williams (Photo: WRI2)
Esteban Gutierrez ranked fourth in the Sauber-Ferrari.
Kimi Raikkonen was fifth in the Ferrari. The day began with further aerodynamic work, as well as some set-up evaluation and practice starts from the pit lane. After 12 laps, the Ferrari team encountered a problem with the data connection to the telemetry, which involved recalibrating and reactivating the system. The programme then resumed and ran more effectively in the afternoon as the team continued to concentrate mainly on set-up work.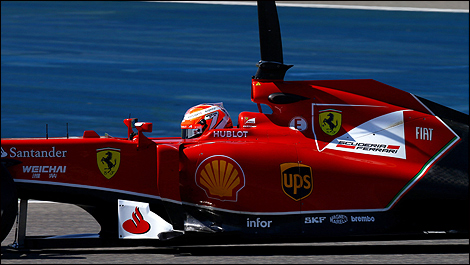 Kimi Raikkonen, Ferrari (Photo: WRI2)
Daniil Kvyat was 7th in the Toro Rosso, completing 57 laps.
Then came Pastor Maldonado in the Lotus, Daniel Ricciardo in the Red Bull, Marcus Ericsson in the Caterham, Max Chilton in the Marussia and Valtteri Bottas in the Williams.
It was again a difficult day for Red Bull Racing. Midway through today's running the team discovered a mechanical problem and in anticipation of tomorrow's final day, the decision was taken to suspend running in the afternoon.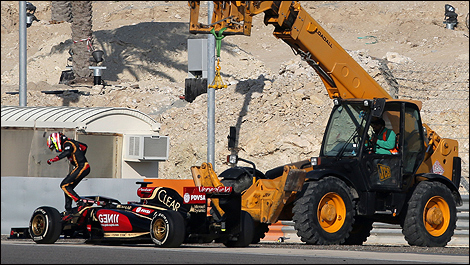 Pastor Maldonado, Lotus (Photo: WRI2)
Best lap time in 2013:
Nico Rosberg, Mercedes AMG in Q3: 1m32.330
Best lap time, Day 1:
Nico Hulkenberg, Force India, 1m36.880
Best lap time, Day 2:
Kevin Magnussen McLaren 1m34.910
Bahrain winter test session 2*, Day 3:
1 Lewis Hamilton Mercedes AMG 1:34.263 67 laps
2 Jenson Button McLaren 1:34.976 103
3 Felipe Massa Williams 1:37.066 60
4 Esteban Gutierrez Sauber 1:37.180 96
5 Sergio Perez Force India 1:37.367 57
6 Kimi R