The National Guard has showed its colours that will be the new standard on Graham Rahal's No.15 Honda for the upcoming 2014 IndyCar Series' season.
A more traditional approach for the National Guard that will replace the intricate camouflage liveries that were the norm during their stint with Panther Racing from 2008 to 2013.
However, with the switch to Rahal Letterman Lanigan Racing, National Guard's logo now rests on a simplified canvas that allows the brand to stand out among the other sponsors.


Photo: National Guard
This livery will be featured at 16 of the 18 races on the IndyCar Series calendar.
This will be the standard National Guard theme for all but two races in 2014 as Graham Rahal will run a special livery for Pocono on July 6 and again at the season ending race in Fontana on August 30.
Graham Rahal will hit the track in his new colours for the first time at Barber Motorsports Park on March 3.​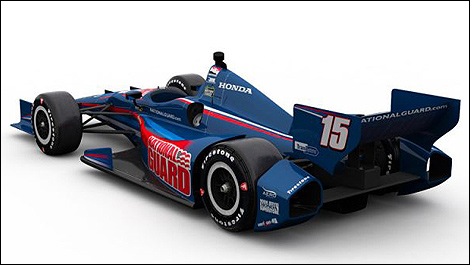 Photo: National Guard